MDJUCO Tourney: Harford CC Upsets Two-Seeded Garrett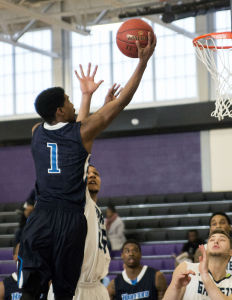 In a conference such as the MDJUCO tournament, there's usually a significant gap in performance between a two-seeded Garrett College and a seventh-seeded Harford Community College.
Yet, this was not the case on Friday at Montgomery College, as the underdog Harford Fighting Owls took the win, 63-52.
In the first half, solid defense from both teams lead to costly turnovers and bad, forced shots.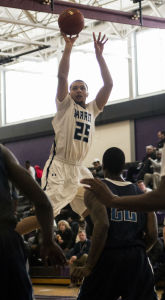 Coming into the game there was a distinctive size advantage for Garrett, but that didn't seem to bother the Harford guards, as they constantly drove the lane and got Garrett into foul trouble, or kicked it out to an open shooter on the perimeter.
Although the 31-25 score at halftime could not give Harford its due justice, they played with a much higher intensity than Garrett, despite only leading by six.
The second half was not much different from the first, as the Fighting Owls' game plan of drive and kick was working effectively. Guards Cedric Hines and Brandon Spain were the spark plugs on the offense, as well as being the cornerstones on defense.
"We wanted to speed them up and try to get into a face-paced game," said Harford coach Mike Smelkinson. "They made us play their style of basketball, and I'm proud of my guys for being able to still win."
Garrett's big men were simply not as dominant as they could've been, and it cost them. Instead of their front court carrying them to the next round, it's Harford who advances to Saturday's games.