MDJUCO Tourney: Lady Raptors Defeat Chesapeake In Grudge Match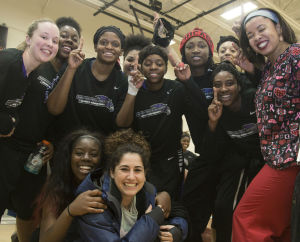 In their first game of the women's MDJUCO tournament, hosted at Montgomery College's Rockville campus, the lady Raptors defeated a familiar rival, the Chesapeake College Skipjacks 61-59.
Both teams have been very evenly matched in recent years, but the last time the Raptors faced Chesapeake, the Skipjacks routed MC, winning their regular season head-to-head by over 30 points. That blowout loss in November certainly looked to be the low-point in the Raptors' early season, but when it mattered most, they turned the tables on Chesapeake.
"They've always been a tough team," said Raptors standout forward, Latasha Gross. "They've just always seemed to come out on top [before]."
But in tournament play, it was MC who came out on top after putting forth a much better defensive effort, holding Chesapeake to 29 fewer points than the previous match, and doing it on the glass with aggressive rebounding.
Raptors forward Hillavei Mensah excelled early on, scoring 18 points in eleven attempts to help MC edge past the Skipjacks 31-29 at the half.
In the second half, Jerbria Smith, Kiana Daley, Jaylyn Watson and Erica Lindsay stepped up to score a combined 30 points despite hard-fought resistance from Chesapeake's defense, which clearly didn't intimidate the Raptors like they did in November.
Gross also said historically the two teams have been closely matched, and while the past few years had led to narrow defeats, their game plan was simple.
"To stay together as a team, don't let them get in our heads, and put points on the board," said Gross.
Gross also sustained a broken nose from a dropped elbow midway through the first half, but returned and played through the second half, which proved to be a deciding factor. The lady Raptors needed every minute Gross played in the narrow victory.