ALMA Program Provides Academic Mentoring While Tackling Low Graduation Rate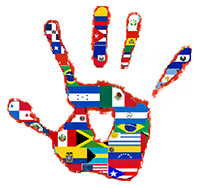 Advancing Latino Male Achievement (ALMA), a program designed to provide an academic family responsive to student needs, while offering academic assistance, and encouraging further college education is currently looking for male Latino students to mentor.
The mission to increase Latino Male enrollment, retention, and the graduation/transfer rate was inspired by a study concerning academically accomplished Latino males in college conducted by Professor Jason Rivera, the collegewide Director of Learning Centers, in the summer of 2014.
"A few research participants wanted to continue the relationship formed during Professor Rivera's study. Yet, they felt an obligation to help other Latino Males whose current combined graduation/transfer rate at the college is 9 percent," said Blaine Campbell, the lead student developer of ALMA.
The programs foundation is based on assembling Latino Males in order to complete its mission to reduce the achievement gap, making recruitment a top priority.
"When Professor Rivera asked if I knew of additional students to participate in his study, I knew of none. At that point in time I was cognizant of the disparity in educational outcomes and sought to improve outcomes by influencing my peers to pursue higher education," said Campbell.
Professor Rivera and Henry Caballero, associate professor for the Reading, English as a Second Language, and Linguistics department are the lead faculty developers of ALMA work with students to identify topics and concepts most important to their academic advancement.
"Our goal is to establish an 'academic familia' that fosters help-seeking behaviors, academic integrity and responsibility, and caring relationships, while including academic elements that are proven to help students succeed academically and persist to college completion," explained Rivera.
ALMA is active during this Spring Semester and actively accepting students for mentorship.
"We cannot continue to be complacent and allow our brothers to accept failure when success is free," concludes Campbell.
Questions or aspirations to receive mentorship as a part of the ALMA familia? Contact:
Professor Jason Rivera
Professor Henry Caballero