How much calcium was in that vodka you drank over Thanksgiving weekend? Bezawit Habtesellassie, a student majoring in biology, can tell you: very little. An honors student in Prof. Craig Benson's chemistry class, she has studied the alcohol– flavored and unflavored–underneath a new atomic absorption spectrometer to see just how much calcium there is.
"I was surprised by the results, I expected orange and lemon vodka to have more calcium than the flavorless one, but the results are the opposite. Now I have to explain this [to the class]" said Habtesellassie.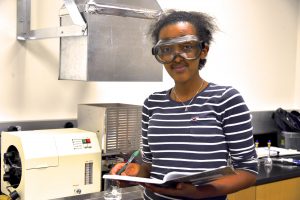 Another student testing for amounts of calcium was Kyoko Marrone. She tested the bones of different animals to verify her hypothesis that the environment had a big influence on how dense the bones of an animal are.
Every semester, outstanding students (3.4 or higher grade point average) are considered Honors Scholars and are given the option to take Honors Chemistry. These classes include  the opportunity to use the college's finest labs.
Students were able to decide what the focus of their research would be, as long as they used the spectrometer (an instrument used to measure properties of light over a specific portion of the electromagnetic spectrum, typically used in spectroscopic analysis to identify materials).
"This technique has a very broad range of applications: in forensics, medicine, or virtually anywhere we need to know the amount of a trace metal that is present." explained professor Benson.
Students had an overwhelming list of options they could choose as their research subject. The instrument was selected by professor Benson, who had an array of great options. He selected the atomic absorption spectrometer for its ease of use and broad application, making it the ideal instrument for first year chemistry students to "play" with.
However, "some students are intimidated by the program, but if you're willing to put in the time and work, it can be a really fun experience" explained professor Benson.
One of the strengths of the program is that it tries to conciliate the material learned in the classroom with hands on lab work. "I really like the program, specially for being something that we can do outside the classroom and that we actually apply what we learned" said Julie Brylanwski.
So, if you are an honors scholar and want to play with MC's coolest toys, give these classes a try.

For more info on how to register for an honors class email Dr. Laura Anna at [email protected]