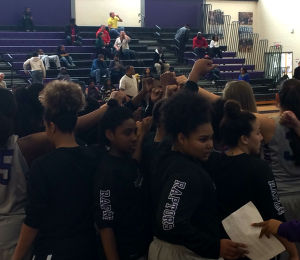 The lady Raptors came into their Saturday afternoon match-up versus Chesapeake College with a solid 5-2 record–a record they're used to having in late November.
They left the building with a 5-3 record after getting beat by Chesapeake in nearly every statistical department, which resulted in a 51-88 loss.
The most glaring weakness in the Raptors' performance on Saturday was their inability to defend in transition after turnovers and missed shots on the offensive end. The coaching staff attributed that lack of defense to a lack of overall playing experience at the college level.
"We're learning how to play defense on a transition basis. It's different on this level than in high school," said assistant coach Patrick Carden. "We have a lot of freshmen, so it's a learning thing for us."
A loss against the undefeated Chesapeake Skipjacks (6-0) isn't necessarily the most surprising outcome, but the fashion in which the Raptors were blown out was surprising: MC's women's basketball teams haven't lost by such a wide margin since November of 2012.
Still, the staff remained confident in turning it all around with more playing experience.
"It all goes back to being young–just trying to play at this level. We're just going to go over our plays again and work through the holiday," said Carden.
The emphasis on their young struggles is warranted, as eight of the lady Raptors' 12 players are freshmen who haven't previously played on a college level before this season.
Although Carden believes more playing time will improve the team, he and his staff aren't making it any easier in practice, either.
"There will be some changes in practice. A little more conditioning with defense in transition, as well as our transitional offense–we do like to run."
They'll have plenty of time to practice that uptempo style going forward, as their next game isn't until Dec. 4 at Northern Virginia Community College.
Women's basketball at MC has been known as a consistent powerhouse within their conference the last few seasons, but now they have some growing pains to work through.