Ottawa Gunman Had Homemade Video, Acted Alone, Despite Suspected Jihadist Connections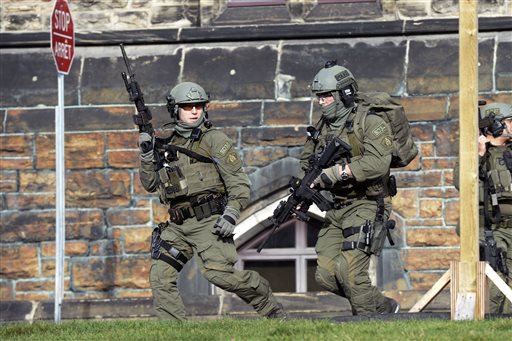 Canadian Officials Not Releasing Contents of Video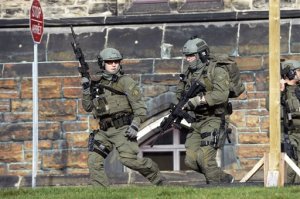 Ottawa gunman Michael Zehaf- Bideau, opening fire in Canada's Parliament and killing uniformed soldier Cpl. Nathan Cirillo on Wednesday Oct. 22, recorded a video prior to the attack. Authorities now deem the footage "persuasive evidence" to an ideologically and politically motivated assault.
The Royal Canadian Mounted Police (RCMP) isn't giving a description of the video, nor are they releasing it, despite the detailed analysis for evidence and intelligence. Officials are, however, revealing information which ties Zehaf-Bideau to radical Islamist and Jihadist individuals.
Two U.S counterterrorism officials claim that Zehab-Bibeau had interactions with Hasibullah Yusufzai, a man wanted by Canadian officials for traveling to Syria to fight alongside Islamist fighters. The two communicated through social media and the internet but the two did not seem close, as the activity was "attenuated," or limited, a source said.
Canadian Foreign Minister John Baird told CNN that there is "no evidence" linking Zehaf-Bibeau to a wider group or network of Jihadists.  There are also no reports of Zehab-Bibeau having ties to the terrorist group ISIL.
"There is no evidence at this stage for us to know that. Obviously there's an investigation going on, and we hope to learn more in the…coming days. It was clear that, police authorities now have announced, that he was acting alone," said Baird.
RCMP Commissioner Bob Paulson tells reporters, "The investigation is ongoing and will rapidly determine if Zehaf-Bibeau received any support in the panning of his attack."
Zehaf-Bibeau was in the Canadian capital since Oct. 2 due to a passport issue, where as an individual with extremist beliefs, his passport application was under investigation. Multiple sources claim Zehaf-Bibeau wanted to obtain a passport to travel to Syria. His mother, Susan Bibeau, reportedly wrote to a Canadian news publisher, saying that Zehaf- Bibeau had plans to go to Saudi Arabia, not Syria.
"If I'm crying, it's for the people, not my son," said Bibeau while on the phone with The Associated Press. "I'm mad at my son," she also said, this time, in a separate email to the AP.
According to RCMP Commissioner Bob Paulson, the Zehaf-Bibeau had a criminal record indicating infractions related to drug abuse, violence, and other criminal activities.
Those criminal activities make Zehaf-Bibeau an identifiable criminal, not a terrorist, according to New Democratic Party leader Tom Mulcair.
"I don't think we have enough evidence to use that word [,terrorist]," Mulcair said at a Canadian party caucus meeting Wednesday. I think we're not in the presence of a terrorist act in the sense that we would understand."
Zehaf-Bibeau, born Michael Joseph Hall, converted to Islam and was a devoted Muslim for  seven years, shown in a pre-trial psychiatric evaluation performed in 2011. After displaying extremist beliefs, members of the mosque he was attending told him not to come back, as his behavior and beliefs were viewed as inappropriate.
Authorities are still investigating the incident, trying to uncover more about the man and his perceived difficult circumstances.
Meanwhile, Canadian lawmakers returned to work amid the sadness surrounding the events, with memories of the fallen soldier, and many unanswered questions.