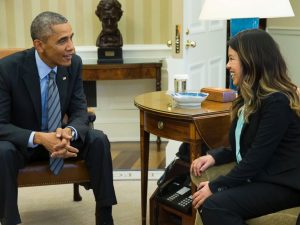 As of Oct. 29, there have been a total of almost 14,000 Ebola cases according to the Center of Disease Control (CDC). The 2014 Ebola outbreak in West African transgressed US soil on Thursday October 16. As of October 23, Dr. Craig Spencer was diagnosed with an unrelated case of Ebola in New York City.
26-year-old nurse Nina Pham was diagnosed with the rampant virus. She was initially admitted in the Texas Health Presbyterian Hospital in Dallas, TX then transferred to the National Institutes of Health Clinical Center in Bethesda, MD. In complete quarantine, it was safer for her and people around her to be in the intensive care unit.
Since she was the first person to contract Ebola on U.S soil, many Americans are worried about the spread. She contracted Ebola while caring for a previous patient, Thomas Eric Duncan,who flew into the United States from Liberia. According to Dr. Tom Frieden from the CDC, they are unsure of how she contracted the virus through her protective gear.
To quell the concerns of neighbors, there was a reverse 911 call to residents saying, "Precautions are already in place to clean all known areas of contact to ensure public health". However the main question is now in the ability of future prevention and care of Ebola. According to Katy Roemer, associate at National Nurses United (NNU), nurses do not feel comfortable enough to handle infected patients.
Due to the lack of skill and training, nurses feel apprehensive to deal with future cases. Unfortunately, there are only a small number of hospitals in the United States that are specially cared for treating the Ebola virus. There is a clear lack of preparation when it comes to this virus.
15 days after she tested positive for Ebola, she was cured. After intensive care, Nina Pham was cured and now has a clean bill of health. On the 24th of October, Nina Pham went to the White House to meet with President Barack Obama. Nina Pham now represents the nurses and many health care workers who put themselves at risk of getting Ebola to take care of people who are in such need.