Ties to MC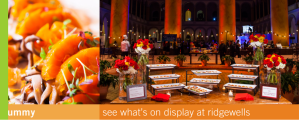 Montgomery College teams up with Purple Tie by Ridgewells to present an opportunity for students interested in employment in Hospitality and Management. Purple Tie visited MC Campus on Wednesday, Oct. 8 to give information and applications for part-time employment.
According to the Staffing and Operations Manager, Kate Gordon, Purple Tie is an event services company of Ridgewells. Gordon said that Purple Tie serves events ranging from employment fairs to cocktail parties in the Washington Metropolitan area.
Purple Tie, launched in March 2008, is one of the three branches of service from Ridgewells according to Ridgewells. The other branches are Haute Catering by Ridgewells and CapitolHost. Each branch provides the same services to different audiences.
Purple Tie reached out to MC through the Hospitality and Management Program and Roberta Buckberg, the Job Opportunity Coordinator at MC. This event is one of many employment opportunity events that Buckberg has booked this semester.
"Employers reach out to Montgomery College's Career Services Office pretty steadily throughout the year and Career Services staff assist them by directing them and supporting them in posting jobs on our jobs website on which only people connected directly with MC can register as job seekers," Buckberg said.
Buckberg also said Career Services arranges to have a table set up in a high-student-traffic area for employers coming onto the campus. Gordon said there will be information and applications available at the table in the main lobby of the Campus Center.
"Our plan is to allow students to informally discuss potential opportunities of employment with Purple Tie by Ridgewells. We will conduct interviews for those interested," said Gordon.
According to Gordon, all students who apply will be interviewed. Purple Tie will then go through its selection process and contact selected students with employment offers. The candidate will then be instructed to go to the company office to complete additional paperwork.