New Director of Strategic Communications Brings Creative Versatility to Enhance MC Brand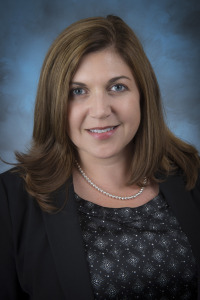 The college has appointed Ms. Heather Milke as the Director of Strategic Communications to oversee the strategic content of the college's publications.
Ms. Milke will be leading MC's writers, communications project managers, graphic designers, and creative services, among others, in order to facilitate consistency and alignment with the message, design, and brand in publications and other information materials. This aims to promote the college's educational mission and strategic plan, through the development of  materials, both for print and future distribution.
"My hope is that this work will show prospective students and the community that Montgomery College is a very vibrant and dynamic community. Our message continues to be that, if you come to college here and do well, your choices for higher education later on are limitless– endless possibilities." says Milke.
While developing the annual plan for college wide print communications, Milke will also aid the college with finances by overseeing the printing services budget for publications that will promote MC's affordability.
"I also want to help spread the word about what a great value an MC education is. It is very important for people to understand that they can get a great education without piling on mounds of debt and taking advantage of top-notch teaching found at this institution is one way to do that," Milke adds.
In addition to her B.A in public relations from the College of Journalism from the University of Maryland and an M.B.A from the George Washington University, Milke has completed graduate level coursework in nonfiction writing at Johns Hopkins University.
Milke has over two decades of experience in publishing, beginning with the private sector. "My first real job was at Rotor & Wing magazine, a trade magazine for the helicopter industry based in Rockville. In a trade magazine you really have to know your subject matter as you are writing expert material for experts. My articles ranged from avionics on the space shuttle to airline crash investigations, which helped me to learn a tremendous amount about how to be a reporter and a magazine editor," says Milke.
Also working with publishing in higher education, Milke most recently served as the senior editorial director at George Washington, where she oversaw project management for multiple high-level communications initiatives in the Department of Communications, within the Division of External Relations.
Her primary publications included working with the GW Magazine and the university's flagship quarterly periodical. Milke was also serving as editorial director of GW Law School, GW Research, and GW Nursing magazines, and  project management lead, among others.
"At GW, I was able to help to grow their alumni magazine into a 72-page quarterly magazine that mails to 250,000 people, while launching a research magazine and creating the university's first magazine websites," says Milke.
Amid her busy schedule, Milke volunteers at her children's local elementary school, where she helps run the school's PTA website. As she is now working in Montgomery County, closer to her family and friends, she is hoping to become more involved at her church.
In working MC Milke is ecstatic to be able to give back to her community and school, as she took her AP classes at the college while in high school.
"I was so impressed with MC. I was proud to be here then and I still am today," Milke reveals. "I am just finishing my second month on the job and I'm continuing to make plans for how to help enhance our brand. I am also excited to help broaden the reach of the many great MC stories that can be told,"

Her previous main product can be found here, at  www.gwmagazine.com under the "Current Issue" tab.