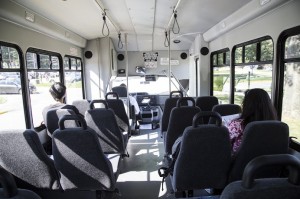 Montgomery College has a new shuttle service that some students may not be aware of. Administration announced back in late July that MC would provide from their own expense a shuttle service, designed to shuttle students from one MC campus to another.
Though this campus-to-campus shuttle may seem a bit remedial to some, several students attend courses on different campuses during the same day–at least enough to have a shuttle service provided.
"We are starting a shuttle from 9:00 a.m. to noon and from 1:30 to 6:00 p.m. Monday through Friday," said Vice President of Facilities and Security Dewey Yeatts in a memorandum.
To ride the campus-to-campus express, all a student needs is a valid Montgomery College student identification card.
The shuttle service travels routes of both to and from Takoma Park's campus and Rockville's alike.
"It's estimated that we'll cut in half the time it takes to travel between those campuses using public transportation," said Parking and Transportation Manager, Mark Pace.
Pace's estimation is accurate, as the shuttles between both Takoma Park and Rockville have been clocked at an average of about 40 minutes, as opposed to the roughly 90 minute trips on standard public transportation.
Germantown's campus is not accessible through the shuttle service. However, in agreement with the Student Council, Pace did mention there's not a great need for a shuttle involving the Germantown campus, due to the lack of impeding stops between the two. However, they will reevaluate the situation in 2015.
Although the shuttle is an overall convenience when compared to older options for students, there's still an obvious hole in the patchwork–many students' classes start well before 9:00 a.m., and they may start at a campus further from where they live. Since the shuttle starts at 9:00, students have to revert back to slower bus patterns.
"Ride On is available to get the students to their initial destination," said Pace.
The college reportedly went through several options before eventually deciding on Reston Limo as the vessel company providing the shuttle service.
"The buses will be operated by Reston Limo, a company chosen to serve Montgomery College based on its successful experience in other colleges," said Facilities Manager, Dewey Yeatts.
For more information regarding the shuttles' scheduling and stations on campus, visit the shuttle website.