New Track Renovations Still Not Enough to Hold Meets
Montgomery College kicks off the this semester in the midst of renovations to the running track. These upgrades started on of seventh of July and are still ongoing.
The construction is estimated to be completed by September 19, according to MC officials.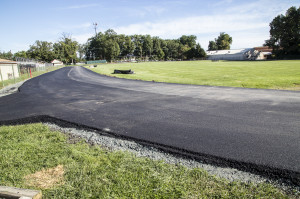 Even though the track is of higher quality now, it will still not be enough for the Rockville campus to host track meets at MC, as there will still be only six lanes. National Junior College Athletics Association track meets require at least eight lanes for meets.
Although it would be a convenience for MC's track team to hold meets on their own campus, the estimated costs for adding the two necessary lanes are upwards of $110,000 according to the American Sports Building Association.
Track coach Thomas Payne said the new surface will reduce injuries when the team runs practices. "[The track] will bring a better opportunity to train in a different way, as well as giving the school a new feel," Payne added.
The renovations had a small impact on MC's soccer team's practice , but the fall sports schedule will remain the same, and the rest of the fall and spring sports will not be affected by the construction.
The renovations include a new surface for the track, which included a process where the contractors removed the track surfaces that were already laid. From there a stone base is added with asphalt being laid over it. The laying of a new running surface is the final step of this process, with the surface being made out of a synthetic rubber called ethylene propylene diene monomer, or EPDM.