MC Finishes CaféMC Renovations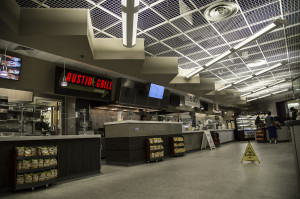 Montgomery College starts the fall semester with a new CaféMC. The renovations were completed prior to the first day of class. CaféMC now has new counters and better equipment with which to serve the students.
Chiquita Manago Haywood, the Grants and Contracts Manager, said the planning for these changes took place last fall and phase one of the renovations began in July of 2013. "It was a management decision to divide renovation of the servery into two phases," Haywood said.
Steve Wolf, the Marketing and Graphics Manager, said, "Phase one focused on removing the Jerry's and the Southwest items as well as the pizza area."
Wolf added that removing the soda machine from the middle of CaféMC also took place in phase two."The idea was for students to be able to fill their cups with a drink while in line to pay for their food. But that didn't really work out," said Wolf.
Phase two consisted of replacing and improving the counters and other equipment according to Manago. Wolf said this phase began July 28, 2014 and was done by August 21.
[laboratory_slideshow slide_page="new-cafe-renovations-2014″ slidetype="slides" limit="8″]
(Slideshow by Emmanuel Jean Marie)
According to Haywood, the renovations in phase two were funded by Chartwells. "Chartwells, has generously provided all financial support for this Phase II project, approximately $500,000," said Haywood.
Wolf said more expenses came with other renovations, such as the flooring and getting the pipes from the soda machine out of the way, as well as moving the reach-in refrigerators.
"The higher expense was tearing up the floor. The countertops and accessibility of the countertops was another cost," said Wolf.
Daisy Mendoza, a cashier at CaféMC said, "Last summer they changed all of the furniture, all the cash registers, the floor and the coffee station. The refrigerators where the drinks go are new, too. This summer they changed the grills in the kitchen and they put the menus on the screens at every food place."
One of the main changes that students will have to adjust to is where to order certain menu items. Select Austin Grille items are ordered at different counters now, which could get complicated at first.
Haywood said that these changes were made to improve the customer experience at CaféMC. Wolf said that the changes helped with the traffic that would build among students when they are lining up to pay for food.
Time will tell as to whether these changes make it more or less convenient for students on a daily basis, and they better, because Haywood said there are no future plans for changes in the CaféMC after these renovations.