Raptors Slide to Walk-Off Win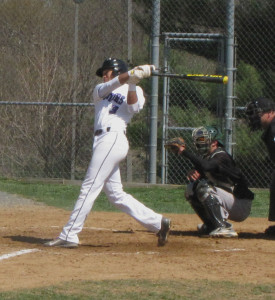 The Montgomery College varsity baseball team beat the College of Southern Maryland Hawks 7-6 in a tight game that came down to the last moments.
The Raptors started the game strongly, with big contributions from freshman starting pitcher Gus Gill and a more consistent offense. Gill pitched five shutout innings before giving up a run in the top of the sixth inning.
Gill was pulled in the seventh after giving up three runs while striking out eight batters.
The Raptors' offensive effort began with the team jumping on the board in the bottom of the first with a two RBI bunt.
The turning point occurred in the top of the seventh, when the momentum flipped to the Hawks' side and they were able to score four runs to tie the game. This led to Gill being pulled and sophomore relief pitcher John Maloney entering the game.
Halfway through the top of the eighth, Maloney was pulled for sophomore relief pitcher Andrew McWilliams, who picked up the win.
The Raptors entered the bottom of the ninth down by a single run, which they allowed in the top of the ninth. With two outs recorded, freshman second baseman Antonio Pino came to bat with a runner at first base.
Pino hit an RBI double to tie the game. Sophomore center fielder Ian Velez followed Pino and hit a single that led to Pino rushing for home plate and colliding with the catcher to win the game on a walk-off slide.
"I went up there clear-minded" said Velez on his mindset when going up for the game winning at bat.