Raptors Drop Two Against FCC, Have Lost Four Straight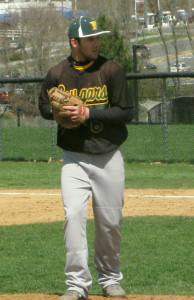 The Raptors' dugout had been silent through three innings. Noise of rallying finally broke through when starting shortstop Nick Kuczarski darted for second base from first, sliding into what looked to be scoring position.
Instead, Kuczarski was called out by the umpire, and what looked to be the only legitimate scoring opportunity was negated. The Raptors didn't have a runner in scoring position through the remaining four innings.
"That was definitely a rally killer. I wouldn't be so upset about it unless it really felt like we were going to get runs there. I wasn't going to say anything to the umpire. I'm 20 years old–he'd chuck me out of the game," said Kuczarski.
The MC Raptors (17-10) were swept by the FCC Cougars (37-6) in a doubleheader on Thursday afternoon.
The Raptors' bats went cold with the weather, as coach Rascher's lineup scraped together just three base hit singles though the entire first game against the Cougars.
Opposing pitcher Cole Boozel (above) pitched all seven innings of game one, allowing minimal contact from MC's hitters, and dealing nine strikeouts.
"He was just hitting his spots," said Raptors shortstop Nick Kuczarski. "We ended up with three hits, and you can't win ball games with just three hits."
Kuczarski also attributed his team's lack of offensive production to the lefty-lefty matchups within the game, but wasn't excusing the club's bad hitting. "We just have to shorten up and have more of a two-strike approach," he said.
"I was actually waiting to see if Dan was going to come out and say something, but he let it go," Kuczarski added.
That questionable call at second base was as close a thing the Raptors had to momentum all day long. The lineup looked flat, and in a game which they lost just 2-0, they didn't need much.
Though even an average effort might have been enough offensively in game one, the second match was not nearly as tight.
Starting pitcher John Maloney struggled with his control in the first inning and never recovered. Walking four batters, allowing six hits, and putting his team in a 0-5 hole, Maloney was pulled for Nick Ponafala in the third inning.
The Raptors never closed the gap, and were swept in a doubleheader after a 3-10 loss in game two.
"That lack of production is disappointing," said outfielder Tyler Coleman (below). "He had his curveball going, but we needed to make adjustments–choking up on the bat, or something. It's disappointing."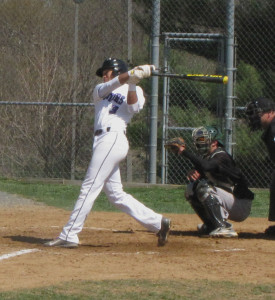 **UPDATE: The Raptors were swept by Anne Arundel College on Saturday, losing 2-11 and 5-8 respectively. They have now lost four consecutive games**