State of the College Address: 'What MC Students Need'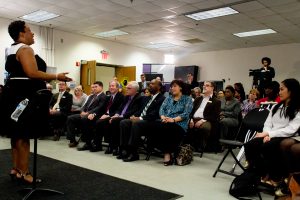 Dr. DeRionne Pollard, president of Montgomery College, gave her third annual State of the College speech on Wednesday, April 9. The main purpose targeting "What MC Students Need.," a campaign encouraging students to suggest changes at MC.
Tuition costs, potential course credit changes, and concerns over the overall academic experience and performance were all issues Dr. Pollard addressed.
Montgomery College is home to students of varying economic statuses, therefore prompting the primary interaction for further development of an academic structure that provides a consistent and affordable learning experience.
According to Pollard's statistics, while 25 percent of current students are Pell Grant recipients, there has been a 60 percent increase in financial aid applications.
"Should we increase the cost for high-cost programs? Should we develop a fast track program for some students? Should we offer a discount to students that take classes during less utilized times at the institution? I don't have the answers to these, but these are all questions to think about," said Pollard.
A very common issue for students is the high cost of tuition, preventing them from taking the classes they need. The questions Dr. Pollard posed will surely be taken into consideration as she added, "We have a responsibility to protect affordability" and "our current tuition model needs work."
While using the hashtag #WhatMCStudentsNeed students often tweeted that they needed parking improvements, including more parking space, this was not discussed by Dr. Pollard.
One of the short videos was shown that addressed many other primary concerns of the student body, regarding different classes being offered at different campuses and the high cost of textbooks.
"I don't drive, I take the bus," said student Nyenpu Kamel, who commutes for an hour and 15 minutes to school because the classes she needs aren't offered at the campus nearest to her home.
Kamel said she also spent hundreds on a book for the same class offered at two different campuses. "I still had to purchase different books because the Rockville campus has different textbook policies."
While the increased availability of book rentals have jumped from 20 to 80 percent, the college is actively seeking ways to continue to improve the availability of textbooks and also the reduce the financial hit of book purchases.
Many campuses do not offer the same classes. There is currently a college-wide Collaborative Committee working to resolve these issues to accommodate the students financially and academically by fall 2015.
Many students have concerns with which classes to take through their General Studies major.
There have been new methods developed that will begin to prepare students for an effective transfer path:  After enrollment in the upcoming semesters, students will be matched to advisors with knowledge in the students major to help with classes.
Faculty is looking into these General Education courses and communicating with colleagues at other institutions to make sure there are those equivalent and consistent courses existing in our curriculum.
"We are also aligning degrees and certificates with the skills necessary to ensure that those students can indeed secure work in Montgomery County," said Dr. Pollard of the workforce.
The college Director of Communications, Elizabeth Homan (@MC_BethPR) tweeted, "student Carlos admits he failed the first semester, but found mentors to help him stay [in] the course, [and] find his passion! #WhatMCStudentsNeed"
That is in reference to the counselors, advisors, and mentors that actively work for student advancement. In addition to the improved General Education track for transfer students, everyone will receive alerts from their counselor or advisor when they are academically in danger.
"The state of our college is strong," Dr. Pollard said throughout the speech. "Our college is a place where people are thriving," as we actively identify and solve issues to help the entire college community succeed.
The full stream of the State of the Union Address can be found here http://cms.montgomerycollege.edu/stateofthecollege/