Course Code Adjustment to Make Transferring Simpler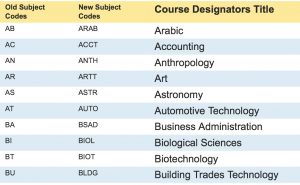 The school transfer process is becoming easier for students, due to a new course number format being implemented in the fall semester of 2014.
Montgomery College will be transitioning from a two-letter course code system to a four-letter system, which is universal and compatible with most four-year schools in Maryland.
"It sets up the structure for common course numbering statewide," said Carolyn Terry, Interim Associate Senior Vice President for Academic Affairs.
A goal set by the Maryland legislature to make the transition from community college to a four year university easier, The College Completion and Career Readiness Act had a hand in this change.
The act focuses on all community colleges and four-year universities working together; It benefits students making a seamless changeover.
When students look at the schools they wish to attend, they will have a better understanding of which classes transfer over. There is also course renumbering system that will have the same effect.
Not having to repeat a class will go a long way with students in regards to time and money.
"We want to make sure students are not caught in these limbo places where they completed a community college degree, but when they transfer to a four year school, they lose some of their credits because they don't translate." Terry Said.
In the future, MC looks forward to improving students' advising early in their college careers, helping students plan out their academic plans. Students will be able to know how to complete a degree in two years or if a student wanted a six-year plan they could map that out as well.
According to Terry, MC just signed a contract to construct an online searchable catalog that has features such as clicking on a course and knowing the offerings of the class per semester on each campus.
"It's going to be really helpful for students planning what they want to do." Said Terry. "The new catalog will not be ready for fall yet, but it is on it's way"