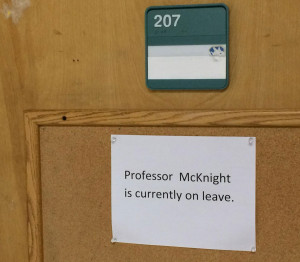 Clifton Anthony McKnight, a professor and counselor with the Student Development Department  at Montgomery College's Rockville campus, has been charged with one count of second-degree assault and one count of a fourth-degree sexual offense.
The fourth-degree sexual offense states that a person of authority, employed at a place of education or business, engages in sexual contact with another without their consent.
According to the Maryland Department of Safety and Correctional Services, a person who violates this section is guilty of the misdemeanor of sexual offense in the fourth-degree and on conviction is subject to imprisonment not exceeding one year or a fine not exceeding $1,000 or both.
The second-degree assault charge implies that the suspect in question attempted to cause "offensive physical contact to another," and does not imply that contact was definite.
As for possible sanctions, Md. DPSCS cites that if McKnight is found guilty of the misdemeanor assault charge, he could face imprisonment not exceeding 10 years or a fine not exceeding $2,500, or both.
The trial of both misdemeanor charges could result in McKnight serving jail time, paying a court-ordered fine, or both.
According to court records, the charges were filed on May 14, 2013.
McKnight's court proceedings will begin at 8:30 a.m. on Feb. 24, 2014, at the District Court for Montgomery County in Rockville, Md.