Library Renovations Draw High Praise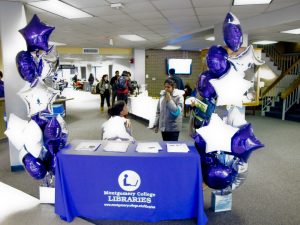 During the winter of 2013, the Rockville library underwent renovations to help improve the quality of the library as well as bringing in new technology to help service students academically.
The Montgomery College Rockville campus library kicked off the 2014 Spring semester by introducing new renovations. There was an official Open House on February 11 which debuted the new renovations, and introduced everyone to the staff.
Good turn out at Library Open House proves renovations are successful.
From 12:00 p.m. to 2:00 p.m. faculty and staff from all over the campus came to look at the art, color schemes, and new smell the library had to offer.
"The open house was great" Said Evan Morles, a student at Montgomery College. "Seeing the new renovations made me want to come in and visit and do more of my work inside of the library."
Students, staff, and faculty have been completely receptive to the new designs.
"Everyone seems to love the splashes of purples on the walls and the mustard colors." Says Deborah Newman the library's Circulation Supervisor. They love the new seating and new furniture, they find it comfortable. So overall it's been positive."
Students all around campus have stopped by the library to leave their comments and tell the library how they feel about the renovations, but most importantly how the new environment has helped them academically.
"There is more space so you have room to spread your books out and do more work, get more done," says Morles. Thats the main thing."
The feeling amongst some of the staff in the library is that the renovations give a more professional look.
"Coming into the library you can see the upgrade from a professional standpoint." Said Karen Scrock the project manager. "It makes students step up their work ethic when coming to study in the library."
More small changes will be made to the library as time passes, adding new furniture, new technology, and new art to a library that is already vibrant.
"We had made a decision to start replacing furniture on the first floor because that is where the computers are–that was the immediate need," says Deborah Newman. "But eventually we would like to change the furniture on the second and third floors as well."