Men, Women Raptors Continue to Roll, Advance to Tournament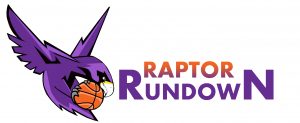 [laboratory_slideshow slide_page="raptors-play-in-game-chesapeake" slidetype="slides" limit="11″]
Photo Credit: Devaughn Phillip
Women's
 Coach Gasque's Raptors (10-4) continued their solid play against a struggling Anne Arundel squad (1-13), defeating the Pioneers 117-48.
Virtually every facet of the game was controlled by the home team, from start to finish. The Raptors had gone on a 17-0 run in the second period to increase their already outstanding lead.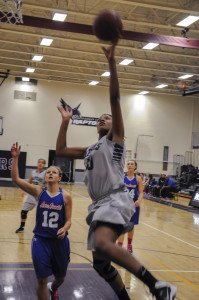 Led by point guard Angelica Ceccone, the Lady Raptors looked hungry for tournament basketball, advancing to the MDJUCO quarter-finals against Baltimore City College.
However, that quarterfinal match-up against BCCC has been postponed due to potential weather hazards. Originally scheduled to play on Thursday, Feb. 13, the game will instead be played on Saturday, Feb. 15 at 5:00 p.m. in the Prince George's Community College  gym.
Men's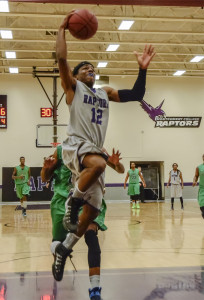 Freshman guard D'Angelo Vaughn continued his stellar play offensively, notching 23 points in the play-in game against Chesapeake College, leading his team into the quarter-finals round of the MDJUCO tournament.
The Raptors were dictating the pace of the game, with multiple fastbreak opportunities from sophomore forward Andre Gaines.  Winning 85-63, the birds locked in their fourth home win by a margin of at least 20 points this season.
Head coach James Bryson applauded his freshman guard, and acknowledged how hard he's been working.
"He was going through a stage of being a little timid from time to time…trying to find his was as either a point or shooting guard, and he's found his rhythm–he's been on fire lately."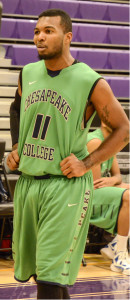 While it was all laughs and smiles from coach Bryson's sideline, Chesapeake's team seemed to become increasingly frustrated in the latter part of regulation, as opposing forward Timothy McNeal (above) drew his second technical foul, and was ejected from the game.
The Raptors' men's team will also play Baltimore City Community College, and because the women's game was postponed, both teams will play on Feb. 15. The men's teams will play at 1:00 p.m. on PGCC's campus.