Tryouts: Be the Official MC Raptors Mascot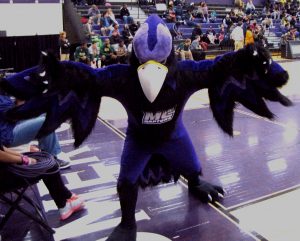 Well, MC students, the opportunity is finally here-your aspiring mascot dreams could come true at long last.
Tryouts to become the official Montgomery College Raptor mascot are available for scheduling. There is also an opening for what administration is calling a "mascot assistant", which is described to be assisting the mascot while traveling to games at any of MC's three campuses.
Administration has also stated that the Raptor mascot will be a paid position, at $11 per hour.
However, there are quite a few important requirements of note:  The applicant must be a student, some form of health insurance, a driver's license, vehicle insurance, and the applicant must also be at least 18 years of age. All applicants must also maintain a GPA of at least 3.0.
If there is indeed a second-round audition for student, that student must provide a reference letter from an employee of Montgomery College.
What's more, according to administration, the intangible qualities you might expect to need are indeed suggested for the new mascot gig:  Responsibility, spontaneity, the ability to interact with children, etc.
It's worth noting that there is no tryout schedule or seminar in place. If you would like to schedule a tryout, you must fill out the application here, and choose your own date and time according to what's available.
All applications must be sent to [email protected] for review, or you can just click here.