Students of Nontradational Age Groups Express their Impressions of MC
 Para leer en Español, Clique Aquí 
There are many factors can influence an individual's decision to return to school. For example, not having a well-paying position at their current job due to the lack of a college degree, a financial support system can no longer provide them with what is needed, or just because an individual is interested in learning more about a particular course of study offered at Montgomery College.
The current club list, released by the Office of Student Life at MC's Rockville Campus, does not include a club that coordinates the interests, needs, and support systems "non-traditional" student groups  may benefit from.  Students belonging to a nontraditional age group who decide to go back to college after many years away from an academic environment may have specific needs when confronted with a new culture, like the one here at MC. This system could very well enhance their goals to succeed in this new endeavor. Also, if a system were to be in place for these students, it could easily support students in adapting to and navigating through this new educational environment.
In order to find out non-traditional students' point of view regarding this matter, The Advocate set out to interview random students that fit this social group. Students were asked basic questions and encouraged to open up about their decision to return to school, and to determine if they felt MC was supportive in providing a system for their needs.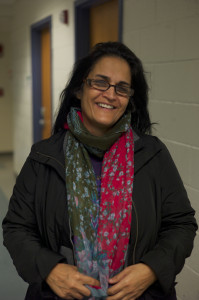 Some of the students that were interviewed liked the idea of a club providing a support system, and others, such as Peter and Brian (who wished to go by first name only), said they didn't feel the need for one when they decided to return to school. As MC Student Yender Zambrano puts it, "I felt I would be accepted, and now I feel 100% accepted." Also, Yender's impression regarding MC's delivery of educational services is mutual for students of traditional and nontraditional age groups alike. In another interview with Maryam Rajaei who said that her hesitation to return to school was, "I felt nervous about keeping up with the younger generation, but know I feel great. It is amazing that I can keep up and even do better academically than other younger students," she also said, "MC accommodates to all ages." Another student said, "I felt that going back to school at my age is a good thing, but it is hard! Today, I feel better, and I know I can make it."
There were a few interviewees that were hesitant to return to school because they said that they did feel left out due to their age, but once the decision was made, and they came back to school, they found MC to be accommodating to many of their educational needs, i.e. the night classes that are convenient because many work during the day. For the most part, they found MC's professors to be respectful and very helpful with their educational needs. The transportation system and the tuition fee waiver for seniors were other factors that influenced the decisions of many students to choose MC.
For these reasons, it would be beneficial if MC offered a club that would provide friendship, acceptance and a sense of belonging to support and alleviate some of the concerns associated with the peer pressure some experience in returning to school.
MC Professors who teach these students were also asked to report their impressions about their non-traditional students' educational habits. Most answers were very similar to those of Prof. Carrie Fitzgerald's (pictured below), who said, "They are more earnest; they kind of know what they want in order to succeed."