Food Pantry Makes Efforts to Serve Students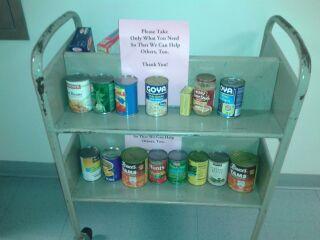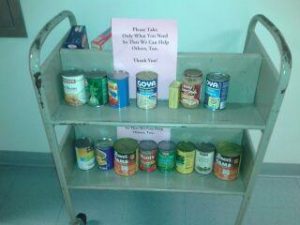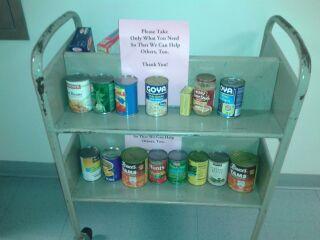 ( Read about the food pantry in Spanish here.)
Under the Women and Gender Studies department at Montgomery College, food and other resources are available for students and people who are in need. Just outside of the MT 212, there is a big pantry full of necessities that is constantly being replenished.
 "The purpose is to help the community and the students. We sometimes have homeless men who come in on Friday afternoons. It's for anybody that needs something to eat," said Ruthann Wilbraham, the leader of the program. "It's really just so that students do not go hungry."
Some students only have money to get to school, and no other expendable income. The food pantry is available so that students do not have to struggle to find food or other resources.
"We try to provide canned foods and packages that are easy to open that the kids can heat up in the microwave." Wilbraham says. "Something that you can get quick and in between classes."
"We do get a couple of people who continuously come in. Not a lot, but there are some people that we know, that come in," Wilbraham says. "Sometimes we get people looking for specific stuff. Sometimes they want to take a meal home."
There are students who come in regularly to use the resources provided, but some are often shy or too prideful to take what they need. Wilbraham does not want anyone be discouraged. Looking for something in particular? The pantry will do whatever they can to make sure students are well taken care of.
"There have been times when outside the door I could hear people rummaging through it a few times a day," Wilbraham said. "Sometimes I have to ask if there is something in particular they're looking for, because we do have some more in the back. When I engage them they'll say, 'oh I was just looking for a quick snack or whatever.'"
Not all students are shy though; they had to leave a sign so that people will leave some for other students who are in need as well.
"We used to leave the pantry open all the time, but we realized that certain people would come and take everything and leave it empty," Wilbraham says. "We're not policing it, but we are checking to make sure that there is food in there from 8:00 a.m. to 5:00 p.m. each day."
The Women and Gender Studies program always accepts donations in MT 212 or donations can be left insidethe pantry.The program looks to serve all people in need at any cost.