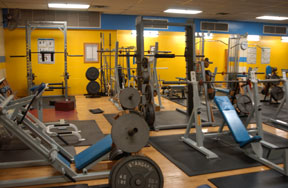 The Fitness center hours at Montgomery College's Rockville campus currently range from Tuesdays and Thursday from 4:30 p.m. to 6:30 p.m., and on Wednesdays at 3:30 p.m.-5:30 p.m. The times and days offered by the college are not bad, However, not too many people are able to meet these times, whether they be an early morning student a middle day student, or an evening student. A lot of classes happen during those particular times, thus, many students are not available to work out when the college assumes they can.
The campus also tends to have much more "foot traffic" on Mondays and Wednesdays. It's hard to truly understand why there is no Monday time offer at all for gym hours. Moreover, there are no student student gym hours on Fridays, either.
This rules out opportunities to use the gym two of the three most heavily trafficked days for students at the Rockville campus.  There are slightly better hours on Tuesdays and Thursdays in the a.m., which is somewhat suitable for students who take classes in just the evening, but there is still not nearly enough of a convenient time slot.
To solve this problem, Montgomery College's Rockville Wellness administration needs simply expand the hours of the available gym time when considering access for active students. As the new Chartwells food contract with Montgomery college may indeed focus on healthier eating, it comes across as hypocritical to deny students time to work out.
If students have more opportunities to better their health and fitness, they will surely take advantage of them. What's more, gone will be the excuse of time available to work out, from the students' perspective.