Garrison Debates Abortion Topic at MC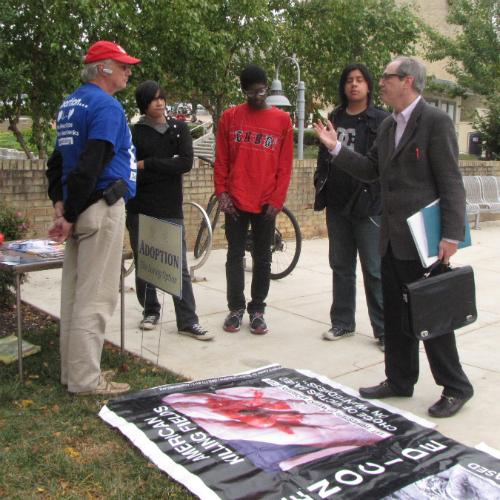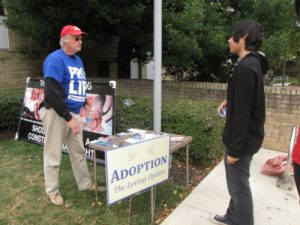 In a country where abortion is such a controversial topic, Kenn Garrison has no problem voicing his opinion. Having strong convictions about pro-life, Montgomery College is the platform he uses discuss with students what he feels is egregious for society.
"What I would like to accomplish is to have people [students] discuss the issue with me," Garrison said. "Whether or not it's OK or what their views are and lets have an exchange of what my views are. I'd like to just be able to talk to people [students]."
There are scholars who don't necessarily agree with him, but contrary to popular belief, there are also around 10 to 15 students per day who take time to hear what he has to say.
Tons of students walk by his presentation everyday, so you don't exactly know the reaction you are going to get. "Generally, the student body is varied in its reaction. A lot of them [students] just walk on by they don't do anything so you don't know if they are for or against [abortion]."
"They can tell me their views and their basis and I can tell you my views and the basis. I consider that kind of interchange good."
Not every altercation with students is pleasant; as Garrison talked about, "when some students strongly disagree, they resort to using a gesture." He explained, "The worst altercations have been the shouters who somehow always reduce their vocabulary to vulgarities."
Students may have some discomfort with Garrison's presence on campus, but Montgomery College does not mind the occupancy.
"We never have any difficulty getting a permit. We never have any push back." He says.
Having some regulation, Garrison expressed that the school told his organization as a whole how to become more successful as far as where to be and how to present. "One of the things they specified was having a table with some literature, which turned out to be a great idea."
Regardless of one's views, Garrison's actions and dedication of attempts to persuade the student body is a perfect example of the first amendment in the United States.
Abortion is indeed a controversial topic, and will remain so. Thus, protesters such as Garrison will continue to attempt to convey their beliefs. However uncomfortable it may be, students will have to adapt to this type of interaction.