Women's Volleyball Team Dominates Garrett CC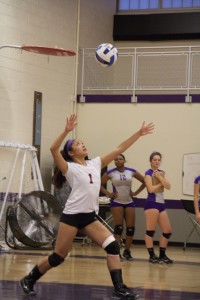 Thursday, Oct. 3, the Montgomery College Raptors played the Garrett Community College Lakers in what can only be described as a volleyball massacre. As the teams stood for the national anthem in MC's stadium full of fans and with banners for soccer, tennis, golf, basketball hanging from the rafters, the spotlight the sport of the night was volleyball. The Raptors stood with one thing on their minds, victory, An hour and three sets later, the Raptors walked off the court with just that.
The Raptors won, three games to zero. Serving first and lead by captain sophomore Andrea Falcon, 8, MC blazed ahead in the first set, scoring 11 uncontested points, forcing the Lakers to take a timeout. "We played well. We could have definitely [made] a lot more plays and been more aggressive, but overall I'm content with how we played" said Falcon.  MC continued to dominate left and right after the timeout., and went on to win the first set 25-8.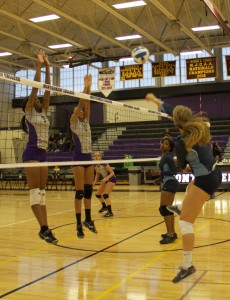 Montgomery College had excelled offensively; passing and scoring at will, combined with a solid defensive game, blocking and returning with ease. The Raptors commanded the game's second, set winning 25-2. The team had good communication throughout the game and despite talent both the players and coach Amir Mafinejad credit: practice and work ethic "Our focus was to have energy, the same intensity as we did all the other games and work on the little things that we work on in practice" said coach Mafinejad.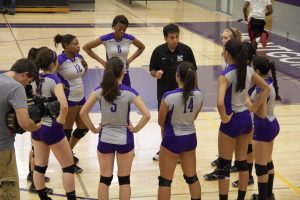 With MC up two sets to none, they came into the third set ready to walk away with the win. The Garrett Lakers came in fighting, scoring the first three points of the set, but it was short lived as the Raptors fought back to show just whose house they were in scoring seven straight points. Once MC got going, they were unstoppable; moving the score to an 18-5 lead. MC won the third set 25-9 and won the game off of an aced serve by sophomore Yesenia Mora, 2.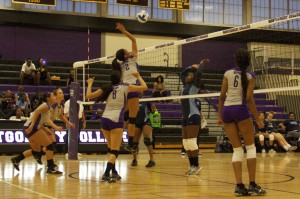 "We're hoping to add to it as we go along but we'll see how we turn out this year." said coach Mafinejad. MC volleyball has a history of winning including trips to nationals and being ranked sixth in the country in 2010 and eighth in 2011. The team seems eager to bring the pain to other teams on the road and at home. The team as a good morale about it, as does co-captain Emily Scott, "I'm really excited. There are definitely going be a lot of good teams, so it should be fun." The future is always uncertain, but one thing is for sure; if the Raptors keep playing how they've did against Garrett, they'll be putting up another banner this year.