Students Victorious Over Faculty and Staff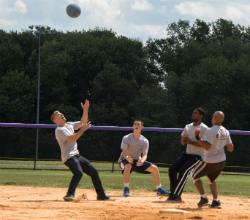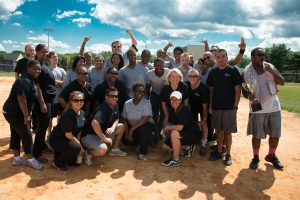 Photos from Adriano Cassoma
On Friday Sept. 13 the weather was perfect for a kickball game. And that is exactly what Rockville campus students, faculty, and staff did on the warm and breezy afternoon. Present at the event was Rita's Italian Ice and music by DJs CJ Watts and Sheldon Wilson. Everyone gathered at the softball field for the annual students vs. staff and faculty kickball game. The teams compete for the Dean's Cup, which is housed at the Office of Student LIfe.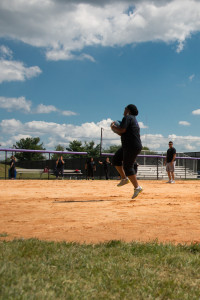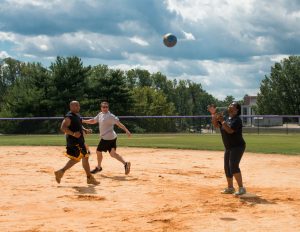 Behind the event is Lisa Hackley, Student Life Event Coordinator, who took over for Alexandra Gonzalez, a founder of the Dean's Cup. Hackley would like to give a huge shout-out to the athletic department for all their help and support for the event. When asked about the challenges faced this year Hackley mentioned her fear of being rained out which happened in 2009. Gonzalez recalls the first game, which barely had enough members to round off the teams. Now players rotate and that couldn't make Gonzalez happier. Gonzalez spent some time on the Tokama Park campus and was surprised to find the Dean's Cup Game was being traditionally upheld. Students even want to expand to include a Dean's Cup in other events.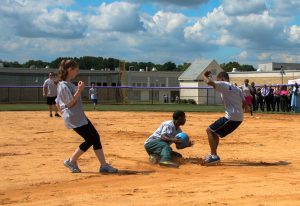 Among the students and staff at the game, were Dean Monica Brown, Dean Clemmie Solomon, Provost Judy Ackerman, President DiRonnie Pollard, Dean Debra Bright, Senior Vice President of Student Affairs Donald Pearl, and many more. Student Ramon de La Cruz played this year and said "It's a great way to meet peers and faculty outside of the professional environment." When Dean Monica Brown was asked what she thinks of the annual event, she stressed that it is a great community builder. It seems students and staff can both agree on that. On the field it's a different story. Competition was tough as students attempted to secure the victory away from the defending champions, the faculty and staff. The final score for this year's Dean's Cup was 14-3 students. Be sure to make it out to next year's game!