MC's 48th Annual Faculty & Staff Art Exhibit is a Hit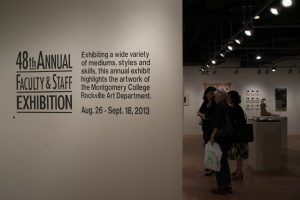 (Photo Credit:  Adriano Cassoma)
Kevin Ortiz:  On the Scene
What checks out at over $70,600 and showcases over 43 pieces by 28 different artists? Well if you answered the 48th Faculty and Staff Exhibition on Montgomery College's Rockville Campus, you are absolutely correct. This year's prices range  from $175 to $10k. The works are extremely diverse from funeral urns and paintings to jewelry and sculptures, the 2013 exhibit is a treat.
Among all of the paintings and sculptures, Eunmee Chung stands out with her brooches. Whispering, Brooch number 21, is currently priced at $1,200. The brooch is accompanied by six other Chung originals. Another piece that stands out is John Carr's 9 Works ($500). It is a series of portraits of people that are hung in three columns and three rows. The white and black shades create a beautiful and classic contrast. The details of the faces are further highlighted by the hanging lights. Also, Superman, priced at $5,000, by Molly Marie Nuzzo is a fun and vibrant piece that depicts the male figure in a more modern view. Another piece that is unique among these great works is Great Horned Vowel, which tops the list at $10,000. The sculpture stands no more than two feet in height, however, it draws in the audience with it's abstract construction and details. The exhibit also features works by Carol-Lynn Swol, Sumita Kim, Casey Magrys, and many more.
Although the exhibit is not up year long and will be leaving on September 18th, it's definitely worth the time to go explore in the art building and take a walk around the gallery. You never know which piece will catch your eye, and that's half the fun. It's a joy to look at the works of the professors and take note of what years of hard work and study will produce. So, for art majors especially, be sure to visit the exhibit and next time you see your professor ask what lead them to produce this year's work.
(Photo Credit:  Adriano Cassoma)
Loretta Tackie:  Interviews
Annually, the faculty and staff of Montgomery College are given the chance to exhibit their pieces. The exhibition that aims to explore the many different disciplines taught within the art department. Personally, I think it's an opportunity for students to finally get to see an embodiment of all the instructions and teachings of their professors.  From another angle, it's also an opportune time for spiteful students who doubt their professors' capabilities to find out if their overly critical professors are worth their salt. Oh! And there's free food…who doesn't like free food.
This being my first Montgomery College art exhibition, I walked into the Sarah Silberman Art Gallery expecting to see mundane paintings, with some dull background music. Imagine my-pleasantly-surprised- self standing in a room filled with diversely magnificent pieces – so many media, amazing concepts.  Its rather sad that the 48th Annual Faculty and Staff Exhibition happened to be my first. One thing is certain; it's not going to be my last. Featured below is one of my favorite pieces. Enjoy!
John Carr- "As light as a…"
"After more than twenty-five years of making prints in a variety of printmaking media I have fallen in love with the Mezzotint method. Every step in the process including the simple act of filing and rounding off the edges of the copper plate, rocking to create the ground, scraping and burnishing in the image and finally printing the edition are all a pure joy to experience."
Exploring the seriousness and whimsical notions of beauty and content, Carr uses his feather images to reflect fragility and delicacy. Carr's fascination for feathers is carefully represented throughout his pieces. He presents one feather in various shapes and forms to create the piece. To him "The feather is not a feather". Individually, feathers are weak; but when put together in large numbers they can't be broken. – Unity and togetherness is strength. "When they are grouped together, in careful arrangements such as that of a wing on a fifteen-pound Canadian goose, they represent incredible strength and resiliency."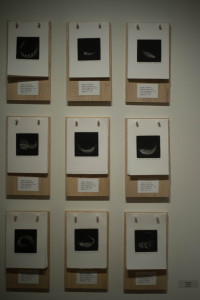 (Photo Credit:  Adriano Cassoma)