Montgomery College to Implement 'Bikeshare' Program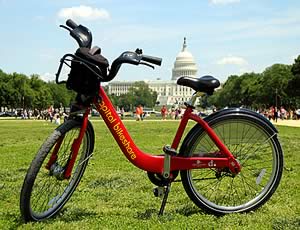 Montgomery College received a grant from the Montgomery County Department of Transportation to fund bikes not only for the city of Rockville, but other possible campuses and destinations as well.
Dr. Judy Ackerman, the Provost for Montgomery College, addressed the Rockville Campus council meeting with the idea of students having the opportunity to sign up for a bike rental membership, which would allow more commuting freedom, as opposed to fighting the inconveniences of bus schedules and such.
"This provides an option for students who use public transportation to be able to get the campus from the Metro Station or anywhere else there is a bike share station", said Provost Ackerman.
Students constantly have issues with crowded busses, late busses, and even busses that may not even show up at the scheduled location or time. With students being able to take transportation into their own hands, the Rockville campus should see more students being able to get to class on time, resulting in an overall even-flowing campus commute and experience.
"[The bike share concept] also means that students, or others, who need to go somewhere from the campus have an easier, more familiar option for how to do it"
Capital Bike stations set up at various locations throughout Montgomery County give many students the opportunity to be a part of the Bike Share program and link it to their academic careers. Locations with said stations will include places such as Bethesda, Friendship Heights, the Life Science center, Rockville, Shady Grove and Takoma Park.
There will be accommodations for students who need payment assistance. Margaret J. Boumel, an Administrative Specialist for the Department of Transportation, talked about what those payment details in addition to the benefits it has for MC's students from a financial perspective.
"Montgomery County received a grant to provide Capital Bike Share services free to 200 individuals with lower income, who work, commute to, or enroll in job training or educational programs", says Ms. Boumel. "This will benefit students with limited incomes, providing them with transportation from school to home or the metro, or anywhere within the county they need to go."
The general consensus on this program being added to Montgomery College seems to be only positive, with no drawbacks, financial or logistically, yet to be found.  However, it could be several months before the campuses start to see the program in full availability.