Why You Couldn't Go to Class Last Saturday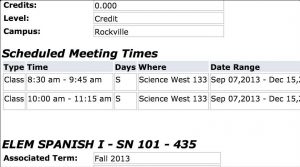 (Photo Credit: Ben Holmes)
Rockville, Md.–On Saturday, August 31, several students arrived to the Rockville campus for their morning classes, only to be turned away by security as they got closer to their buildings.
The simple hindsight answer to all of this is that there was in fact no class that day—Saturday classes start on September 7. But the confusion of start dates arose due to an apparent scheduling error.
According to every Montgomery College student's schedules via their 'MyMC' account, the Saturday classes read the time, then "Dates: August 31-December 11." This was obviously not the correct start date for Saturday courses.
However, this scheduling error was changed some time just last week, not when most students had registered a few weeks ago and looked at their schedules then. Thus, approximately 15-20 students showed up at what they thought to be right on time for their Saturday morning class, but were told the class was not meeting by one of the three security guard on the west side of the campus parking lots.
Security personnel were even going so far as to walk to the students' cars before they go out, to save them the walk to a non-existing class. Though most of the classes were held in 'Science West' (the building on complete 'lockout'), several RD099 (Reading) students had made the same mistake for their classes, held in the Humanities building.
The issue here is not security walking to students' cars and turning them away. They are simply doing their job and also preventing people from wasting time. However, the situation is still confusing: Although security had turned students away, the majority of students, including myself, were not given an explanation as to why class wasn't in the building.
Overall, approximately four classes were affected by the schedule error, and they were mostly prerequisite courses. Several students, including myself, received e-mails from specific professor of the moved classes between August 26 and as late as August 30. However, zero e-mails were received by these students from the college's administration.
There was no 'classes start next week' or even 'There aren't any classes in this building.' Most of the responses were just indications of an administration order to turn people away. Without much of an explanation to students, the close to two-dozen there only seemed more confused.
Another frustrating aspect of it all is that although there was a fairly apparent error made by the scheduling department, there was no message or e-mail regarding this error actually occurred—only a few college security officers telling students basic responses.
We're not exactly breaking barriers here when we discuss the flaws, quirkiness, and difficulties of dealing with the MyMc Software. It can become a bit finagling and clumsy at times, but traditional problems such as e-mail window errors on Macs, or the lack of any simple navigation are not nearly as important and inconvenient as this issue.
As far as we can tell, there are no other scheduling changes than this one that was already botched. May it at the very least just be a reminder to all Montgomery College students—double check your schedules up to the first week of classes. It could save one morning of sleep on a Saturday morning, or even a missed assignment later. As fitting for a college student, much of the prep work and ground work must be done by one's self, with little to no outside help.