Boys-to-Men Program Making a Difference on Campus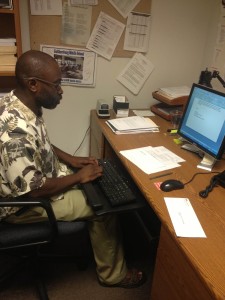 The Boys-to-Men program at Montgomery College works to help more African American men graduate.
The program was created by four founders (Gus Griffin, Fabian Drain, Marcus Peanort, and Clifton McKnight), whom are all successful, determined, and dedicated academic counsels.   They created the Boys-to-Men program to help students make a smooth, successful transition in coming straight from high school to Montgomery College, giving the students the confidence and self-esteem needed to accomplish their dreams.  "We made this program a reality to ensure that they stay in school, help improve their grades, transfer, and/or get their award or degree, primarily degree." says co-leader Gus Griffin about his program. As for how Griffin and his team got started, he insists that taking action, instead of "merely talking about it" lead to obtaining grants to help fund Boys-to-Men.
Primarily on Rockville's campus, Boys-to-Men looks to extend the program to different campuses giving Tacoma Park, and Germantown's African American males the same chances as well. The institutionalization of the program prior to fall of 2013 lacked administrative help, but they have seen progress. Mr. Griffin talked about how some goals have already been reached.  "We have been granted financial support from the college this year, and for another year to come.  That is a big step."  With the budget provided now by Montgomery College in the fall, and  recent groundwork being completed, the program's future looks very bright.. Using different technological media tools as a way to reach out to all the students who qualify for the program, outreach and exposure to obtain more scholars is a problem that they still face for the future. "The best marketing tool is what students say about the program" says Mr. Griffin. "Growing will only be better for our society as Boys-to-Men looks to grow not only on MC campuses, but also make connections with the community.  People in the program mentor high school students, high students mentor middle school students, and so forth."  This mentality of a chain reaction built on guidance and dedication through education, is a mindset that has yet to prove itself, but shows huge potential.
So far, the Boys-to-Men program has set up a great foundation that should only move forward. There are plenty of examples of students that have succeeded and flourished in the program. "We had a student who had a 1.62 GPA, but at the end of a year, with the help of the program, he got it up to 2.89.  He was our most improved student of that year. We've had other students who've transferred to Alabama State, and some other fine schools."  Mr. Griffin expresses great gratitude when a student has been helped. "Some I think a lot of it comes down to is gaining confidence that you can be a successful college student… The interaction with the students to give them the impression that you can be successful there is a crucial aspect." Also, seeing that there can be change in a student's outlook is one of the biggest benefits of being a part of Boys-to-Men. "If at least it can be out there as an option to help African-American students become more successful through the college transition, that's all we can ask for."