No limits for MC Transition Program graduate
The Graduate Transition Program at MC is offered to students with disabilities to assist them in furthering their academic goals. The program aims to "eliminate physical, technical, and attitudinal barriers that limit opportunities," according to Montgomery College's website. Established in 2001, the program has helped students with disabilities here on campus to progress in their academic career and further their goals. Once students have completed the program, they are awarded a certificate of completion and are assisted in finding jobs through the large network of MC connections.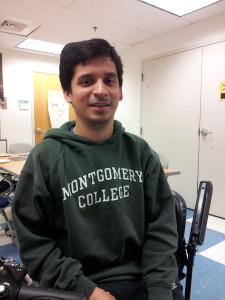 David Godoy came from Ecuador when he was 14 years old, and despite facing hardship throughout his entire academic career, worked his way to MC to pursue higher education. Living with cerebral palsy has been difficult, but not impossible for David. He has completed the courses that are part of the GTP, taking ESOL classes, Art, Ceramics, and Reading & Writing.  "Despite the disability you have, everything you want to achieve and everything you want to do is possible. Never lock yourself in a negative mentality," Godoy said.
"There's many opportunities, especially for people born here, but people think the limit of education is  reached for students with disabilities once they finish elementary or middle school. It, in fact, continues past higher education. Many people are able to achieve great things with their disabilities."
David shared that his spelling and vocabulary skills have improved, as well as his confidence for speaking in front of people, thanks to his communication courses. As his teacher mentioned, regarding the sides of the brain, the right part is artistic and creative and the left side is for analytic though and memorization. "Those of us with diabilities may not be able to do all of the things at the same level as other people, but we operate exceptionally with our right side and we always try our best to complete the things we strive for," Godoy said.
One of the things that has proven to be a big help for him when completing homework is listening to classical music. "As soon as I get home, I put on my headphones, and start listening to classical music," Godoy said. "It calms me and keeps me relaxed to finish the assignments easier. To do the assignments I listen to classical music to help me concentrate better for all of my classes."
David shared his experiences and the influences that have helped him through the GTP program to serve as inspiration for others facing difficulties similar to his, but also for everyone who is going through a hard time. The most helpful thing to do is to keep striving towards your goals and not give up. Like the message from the Special Olympics that David says he frequently remembers, "Let me win. But if I cannot win, let me be brave in the attempt."