Raptors drop Sophomore Night nail-biter
The end of the season: 13 wins, 13 losses.
The end of the first half: 41-40.
The end of the game: 77-76, in favor of CCBC Catonsville.
After endless work, life often seems to end where it begins, just about even. The Montgomery College Raptors (13-13) took their best shot on Tuesday night against CCBC (10-12). On Sophomore Night, the Raptors failed to deliver a win, but instead delivered a heart-wrenching loss.
The Raptors lit up the scoreboard with an offensive explosion, led by Phoenix Buttler-Poole. Butler scored 23 points in the first half. "I just couldn't miss," Buttler-Poole said after the game. His fire flickered at times in the second half, adding a comparatively low 11 points.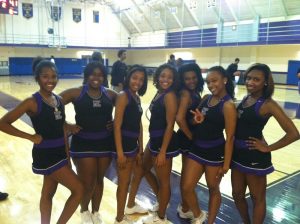 Not to have the show stolen on sophomore night, Alex Chike, in his final regular season game, scored 17 points and aggressively led his team down the stretch. Chike began with a skillful behind-the-back pass while driving to the lane, but in the waning moments, missed a lay-up that would have increased their lead in the closing seconds.
Catonsville was led by Quintin Jackson from start to finish. Jackson scored 32 points including a dagger with 6.7 seconds left to go, putting them ahead 77-76. Quintin had three defenders closing on him, but as one player commented in the locker room, "It was his night."
In the locker room, coach Bryson pointed out one more situation where it's just about even. 0-0, the Raptors record as they enter into the playoffs. Giving hope to the Raptors for a new season just around the corner.
To close out the season, Montgomery College's finest, the cheerleaders had an outstanding performance on Sophomore Night. In front of one of the largest crowds of the season, the cheerleaders drew applause, laughter, and cheers. A crowd favorite was them chanting about the opposing players heartbeat while shooting free throws and stomping on the ground. With dancing, stomp, and some pizzaz, they set the tone for what would have been a court-storming victory.