Life after Question 6
"I kind of felt more validated as a person to feel that I had one more right that was more equalized," 22-year-old Lauren Shelly said in the days following the November 6 Election Day. She identifies as a lesbian. "It gives me a lot of hope for the rest of the country, especially since the other states that were also voting [for same-sex marriage] all voted same-sex right."
It was but a month ago that Maryland voted in favor of allowing same-sex marriage, better known as Question 6, in the state, opening up a life of equality for gay couples. Maryland became the first state to approve same-sex marriage by popular vote. Minnesota and Washington would also join this exclusive club on that same day.
Kate Phillips, 44, has been with her partner Cammie Backus, 34, for almost seven years. Timothy Bishoff and Nathan Tilghman, both 23 years old, have been together for two and a half years. And now, marriage is a possibility. Phillips and her partner look to marry early in 2013, and Bishoff and Tilghman are planning for something within the year.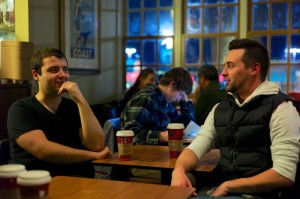 The road to Question 6
As far back as 1997, the issue of same-sex marriage was fought for in Maryland. However, most of the political discourse would happen a decade later.
Governor Martin O'Malley led the charge to pass same-sex marriage. Efforts to legalize the marriage in Maryland failed to materialize in 2008, but the state did allow unmarried couples some domestic partnership rights by passing bills SB 566 and SB 597.
With all of that, it wasn't until 2011 that same-sex marriage under the Civil Marriage Protection Act made any headway, only to be shot down by the Maryland House of Delegates in March of that year.
The matter wouldn't be revisited until February 2012. But this time, both the House of Delegates and Maryland Senate saw the bill through, and O'Malley finally put pen to paper and signed the bill on March 1, 2012. The bill, however, was amended to not take effect to until January 1, 2013, allowing time for petitioners to force the bill onto the November 6 ballot.
Gay couples can get marriage licenses starting today.
Civil rights
Is gay marriage a civil right issue? Some say yes, some say no. 
"
"It really comes down to there are no barriers between you and being on an equal plane with everybody else." – Kate Phillips"
Maryland House of Delegates member and vocal same-sex marriage opponent Emmett C. Burns, Jr (D) famously said, "if you want to compare same-sex marriage to civil rights as I know it, show me the Ku Klux Klan that invaded your home."
Tilghman feels otherwise. "I feel like civil rights are destined to sweep across the nation," he said, regardless of whether it is based on skin tone, gender, or sexual orientation.
To Shelly, the right to marriage was crucial. "Knowing that there were people who didn't want the homosexual community to get married felt like those people were trying to take something away from me," she said. "And now having that makes me feel equal."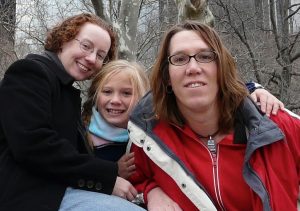 "We're all human. I do the same things everybody else does. Identifying as a lesbian doesn't make any difference. I get up every morning, go to school, go to work. Why shouldn't we have the same right to get married as somebody else?"
Equality goes further than just marriage for Phillips. Not only does it have financial implications, but it also affects the life of her and her partner's 13-year-old daughter Leah.
"[The vote] also enables us and our families to have the same rights and privileges if you have children that have fully been adopted into your family. The family gets to do family things when it comes to public school systems" such as with parental decisions with school, Phillips said.
"In Virginia we had airport officials over at Dulles tell us no you can't go to the gate because you're not married. Only the parent can go. If you were married, the step parent would be allowed to go. Explain to your nine-year-old daughter why both of her parents aren't there at the gate. That was a painful experience. We don't have to worry about that anymore."
Marriage's connotation
While Phillips and her partner don't plan on being first down the aisle on January 1 when the law goes into effect, knowing they can get married is what matters the most.
"There's a feeling of unity that didn't exist," said Phillips, a Takoma Park resident. In her community, marriage carries a certain weight, a connotation that being unmarried partners does not.
"Is it really a commitment if it's not a marriage? In most eyes, I would say that people can commit without a marriage, but is it seen that way through the rest of society and workplace? Some workplaces don't have the verbiage for unmarried partners."
November 6
The final tally for Question 6 came in as such: 52 percent voted in favor of same-sex marriage and 48 percent voted against.
Even with uncertainty in the air, Phillips didn't feel the need to worry. "I think we've always expected it, that it would come to pass. It was just a matter of timing and getting the legislature to pass it and then having the people put a popular vote to it."
"We took the day off, and we went and voted, my partner and I. We felt especially positive, especially after having cast our vote. We went back and watched the polls as they came up in the evening. And unfortunately, it seemed like it was taking forever. We were a little bit nervous, because although we were leading, there always the possibility of what if this doesn't work out?"
Bishoff and Tilghman were watching the votes come in that night, with eyes firmly affixed on his iPhone and Politico, Tilghman said.
"I'm really happy that we carved out a slice to say that churches have a say. I don't believe that churches should be forced to do something they don't believe in," Phillips said.