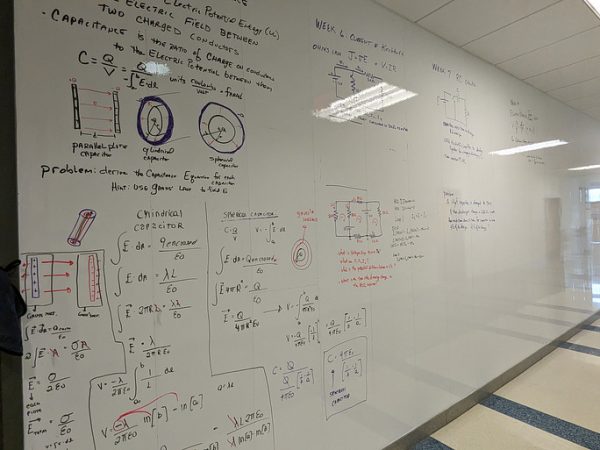 This past summer, Physics Instructional Lab Manager Professor Maryam Hosseini of Montgomery College Rockville Campus came up with the idea of putting a whiteboard wall in the hallway for students, located outside of Science Center Room 415. With the help of Student Assistant, Marcus Cetina, and Physics Instructional Lab Coordinator, Syed Gilani, Professor Hosseini implemented her idea in time for the fall term.
Before becoming an Instructional Lab Manager, Professor Hosseini taught physics at The University of Akron and later, mathematics at Montgomery College. In both cases, she instructed her students to use a whiteboard wall to solve problems because she loved to see what they were doing while moving around the classroom.
Professor Hosseini's conversation with Dr. Nawal Benmouna, the Dean of the Science, Engineering, and Technology Department, about putting a large whiteboard in the conference room led her to inquire, "…how about I just put that in the hallway behind the physics class and then for every week, we can write down the summary of each week till the end of the semester?"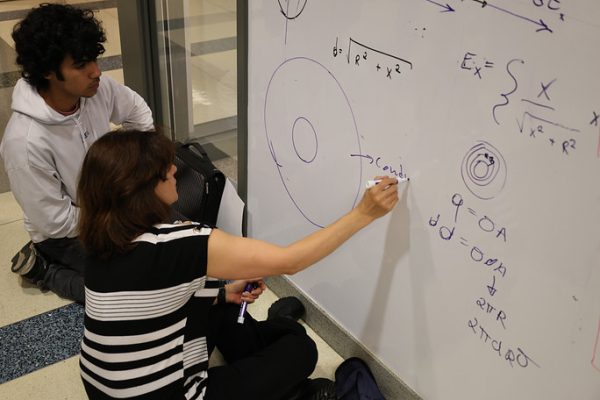 It did not take long for her colleagues in the physics department to be on board (pun intended!) Another physics professor, Dr. Richard Szwerc, mentioned how, "when the students solve problems on the wall, we get to look at them and correct errors, correct misunderstandings."
As the important notes on the whiteboard begin to accumulate, it allows Dr. Szwerc to, "point out the progression, that everything isn't an unrelated concept, [and] everything builds on itself." From this, professors can relay important information and collaborate more effectively with students using this learning tool.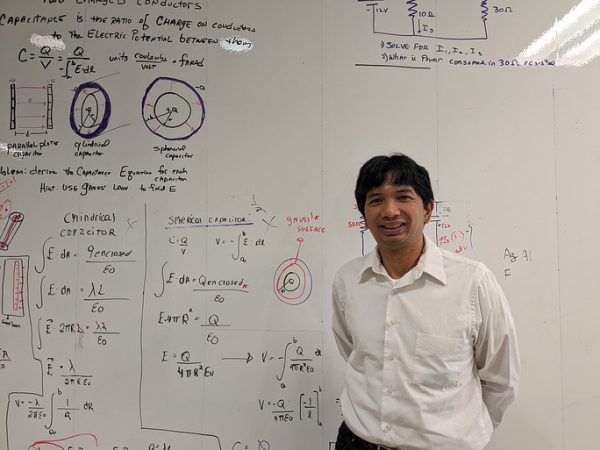 Dr. Raymond Fermo, an ATPA Embedded Coach who provides support in different physics and engineering courses, mentioned that the whiteboard is the busiest when approaching exam times. He encourages students to work on the problems that Professor Hosseini puts on the whiteboard. Most importantly, Dr. Fermo hopes that the whiteboard gives, "an opportunity for students to see the value of working together…" and makes a point of how, "…you can't get anywhere without that collaborative mindset as a scientist, and science isn't done in a vacuum, it's done in a scientific community."
While instructors appreciate the value of the whiteboard, it is imperative that students do as well, and they do! Some students have even formed friendships through working together on the whiteboard. For example, second-year aerospace engineering student Rayssa Borges uses the whiteboard to solve difficult physics problems, explaining that, "there are usually a lot of people hanging around and everybody works together to solve the problem." As I walked by the whiteboard, Rayssa's words were evident as I observed students huddled around it, collaborating on solving problems as they waited for their class to start.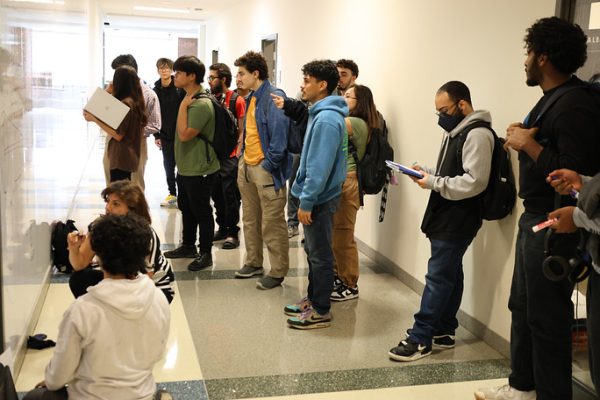 Professor Hosseini's significant contribution has highlighted the importance of collaboration, thus fostering a community of learners that help expand each other's understanding of Physics 262.
This is an updated version of a story originally published on November 5, 2023. In the original version, Maryam Hosseini was incorrectly identified as an Instructional Lab Coordinator in the physics department. She is the Physics Instructional Lab Manager.