Dual Enrollment Helps Drive MC's Improving Enrollment
Despite Montgomery College seeing a decline of enrollment in recent years, the school has recently published optimistic results for recent fall and spring semesters. After hitting peak enrollment in 2012 with over 25,000 credit students, MC experienced a decline consistent with community college and even university enrollment across the country. However, a new program may soon change that.
Dual enrollment provides a graduation track open to academically advanced Montgomery County Public School (MCPS) high schoolers where they complete college courses while still in high school. For dual enrollment eligibility, students submit a regular admissions application, obtain school and parent permission, have a minimum 2.75 GPA, and meet the assessment and prerequisites for the course they wish to take.
According to statistics from the Montgomery College Office of Institutional Research and Effectiveness, though collegewide enrollment has fallen over 25% since 2018, the dual enrollment program has actually seen a 55% increase in students. Now making up 8.7% of MC enrollment, it is helping reverse the significant drop. The College's downward trajectory has stabilized significantly in the spring 2023 semester, incidentally, been accompanied by a decrease in MC's average student age, from 24.7 years in 2018 to 23.7 last semester.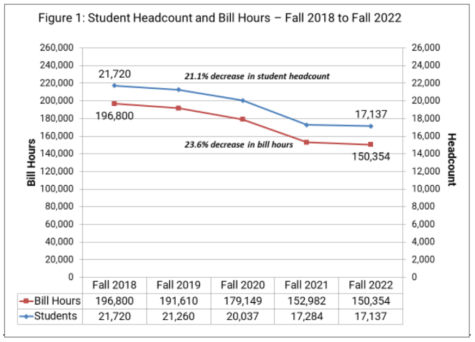 Montgomery College's partnership with MCPS for this program has been an important part of the College's enrollment strategy and provides an alternative to AP and IB courses, which are very beneficial to high-achieving students but not available in all Maryland schools.
Directed by the Office of Academic Initiatives, dual enrollment has three main programs:
Early College: A popular choice for high-achieving MCPS juniors and seniors, where they earn an associate's degree with their high school diploma upon graduation. The students, who study in cohorts with their fellow students, leave their home high school to study exclusively at MC.
Jumpstart to College:  Students can supplement their existing high school courseload with college classes.  Those in the program need to get individual authorization for each class and still study at their existing school.
Middle College: MC holds courses at auxiliary locations near high schools. Students stay at school but attend MC classes for college credit.
The benefits of dual enrollment include increased college preparedness and experiential learning opportunities for students across the county. Says Akima Rogers, Montgomery College Director of Academic Initiatives, "Students are able to not only earn college credit before graduating [high school], but experience what it is like to actually sit in a college class within a supportive environment".
Dual enrollment students have have made remarkable achievements.
Last year, Terrell Wright, a graduate of Northwest High School who studied for his A.A.S. (Associate of Applied Science) in Radiologic Technology in dual enrollment at MC, became the youngest certified radiologic technologist in Maryland at 19. He works in the Diagnostic Radiology department at Johns Hopkins University Hospital while attending Towson University.
Deepica Premaratne, a former dual enrollment student, was appointed by Governor Larry Hogan last year to serve as the current student member of the Montgomery College Board of Trustees. "I think the dual enrollment program has the potential to greatly benefit enrollment as a whole."
Premaratne continued, "Speaking personally, I felt confident in enrolling in Montgomery College instead of a four-year institution after graduating high school because I had such a wonderful experience in dual enrollment, so I was confident that MC would fulfill my educational needs. If other high schoolers in Montgomery County can also see how great Montgomery College can be, I think this would be a great benefit to enrollment at the College."
As the program's collaboration with MCPS evolves, Montgomery College anticipates an increase in students each year, and recently, there has been some exciting news for dual enrollment students and applicants. The State of Maryland will fully finance dual enrollment for students entering in the next year. The funds for this have been apportioned by sweeping new education policy that passed the Maryland legislature in 2021: the Blueprint for Maryland's Future.
According to the Maryland State Department of Education, The Blueprint for Maryland's Future is an initiative to "transform Maryland's schools into a world-class educational system." It will increase state education funding by $3.8 billion yearly over the next ten years, improving the education quality for all students in Maryland.  Students will also have access to many college and career routes at no extra cost, with flexible pathways allowing students to develop knowledge in a subject area, earn post-secondary credits, and engage in college-level courses and a college environment.
Montgomery College will refund MCPS students who have paid tuition for college courses taken during the Fall 2023 semester. Students taking college courses during the remainder of this school year will not be charged tuition but may be responsible for other college costs, such as textbooks or fees.
MC will also refund students who have paid tuition for college courses this fall. Beginning in the 2023-2024 academic year, all eligible dual enrollment students may take approved college courses at no cost.
The future of dual enrollment in Montgomery County looks bright. The Montgomery County Board of Education has approved a plan for the to-be-constructed Crown High School in Gaithersburg, which will accommodate 2,200 students and is expected to open in 2027, specializing in serving dual enrollment students at Montgomery College.
With this alignment in state policy, county educational interests, and MC's enrollment strategy, the College has an opportunity to capitalize on this potential source of motivated students – from our local high schools –  and find a way to boost our enrollment woes.
Note: Rishi Nixon is a current dual enrollment student.