2023 Alternative Spring Break – Puerto Rico
Twelve diverse, passionate, and well-rounded Montgomery College students from all three campuses, selected through an intense process, embarked on a seven day excursion to Puerto Rico, for 2023's Alternative Spring Break program. During the week of March 11th through March 17th, us students served in various ways. We poured a cement roof for a family home destroyed by 2017's Hurricane Maria; they tied rebar, or reinforcement steel for the roof foundation and they completed a trail cleaning project at San Miguel Nature Reserve in Luquillo.
Moreover, some of the fun activities that students experienced included dancing salsa, learning about the native Tiano Culture, touring the Historic city of "Old San Juan", and trying new Puerto Rician cuisine. To relax, students basked in the sun on the beaches of the Caribbean and swam in the river to reach the Tiano Petroglyphs.
MC partnered with Global Works, an international travel program whose coordinator, Talia Santos, led the daily activities. Every day, Santos assigned the cohort into groups and with leadership opportunities, planning the schedule for each day, clean-up and dishes, and writing about adventures for the Global Works blog. The organizer led with enthusiasm and integrity.
Additionally, we created a community contract outlining the trip's rules. We stayed in "The Big Yellow House" in Vega Alta, Puerto Rico, where we bonded with icebreaker activities led by our student leaders, Mohamed Kamara, Olivia Keller, and Rocelyn Alvarado including debating inspirational quotes and "Rose, Bud and Thorn" Ultimately, the days of Alternative Spring Break lasted from 7:00 A.M. until at least 11:00 P.M.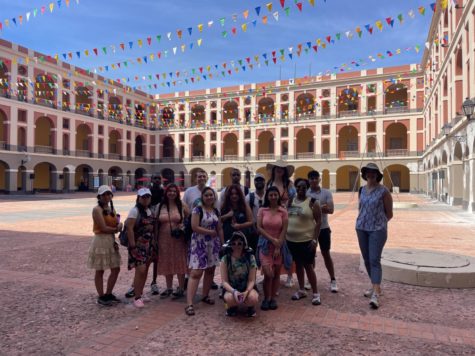 On the first day, the students explored the streets of Old San Juan. Students learned about Puerto Rico's Totem Pole and the Churches of San Jose and San Juan Bautista. They also explored two significant Spanish forts that had protected the Island, Castillo San Cristobal and Castillo San Felipe del Morro. Students visited the house of Felisa Riacon de Gautier who started the Head Start program in the United States. They felt enthusiastic about the Mofungo, a dish of mashed plantains.
On Day 2, students worked on a trail cleaning project at San Miguel Nature Reserve in Luquillo. There was work done by community members, outreach groups, ranging from middle school to college students. The students learned about eco-tourism from the park ranger and the many ideas that were proposed by several corporations for many years to build hotels and resorts at the beautiful forest. Students learned that the government did not fund the work of the San Miguel Nature Preserve; rather, the project flourished from the love and compassion of the Puerto Rican community.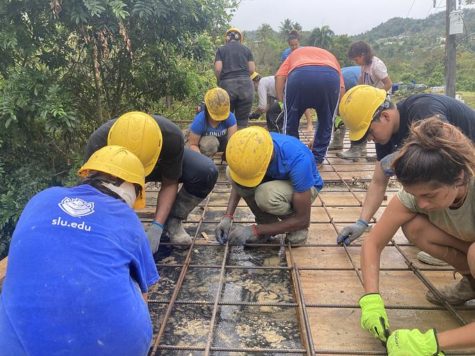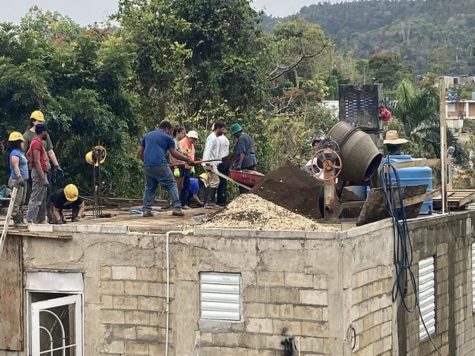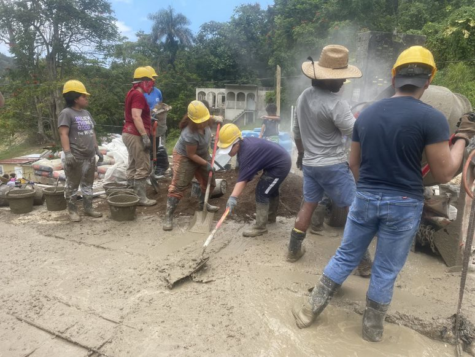 On Day 3, students started their first day of home building projects in Villa Del Rio and met the family whose cement roof did not get completely built because of the destruction of Hurricane Maria. The homeowner, William, gave an overview of our project that we were going to be working on, specifically the roof that was over his children's bedrooms. William also explained the safety protocol and procedures so that students would not get hurt. The entire family all worked together including the children, excited to build their future. In the tropical climate students collaborated to mix and pour concrete. After a break for lunch they tied rebar. We ended the day with a delicious pizza dinner and a fun Salsa dance lesson at the Big Yellow House.
On Day 4, students returned to the house in Villa Del Rio, for another full day of construction work on their roof. Through hot sun the cohort performed tasks like heavy lifting, cutting wire, and passing buckets. After work, students spent time on the beach and explored the breathtaking and luscious views of the Caribbean.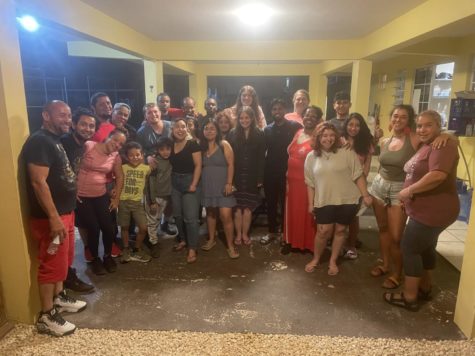 That evening in the "Big Yellow House" everyone enjoyed dinner with the Puerto Rican family, where they expressed their gratitude for the group completing their cement roof Students were given colorful bracelets with the Puerto Rican flag on them, as a token of appreciation for their hard work.
On Day 5 of the trip, students traveled to Utuado, and met with Mika, the owner of Campos Sofia to learn about the Tiano Culture. Students jumped into the river and swam to visit one of the Taino Petroglyphs. Students finished their time enjoying all of the elements of nature and a relaxing Tiano meditation. For the final evening, in Puerto Rico team members their reflections on the trip the many takeaways from the trip and discussed what they planned to put into practice upon their return.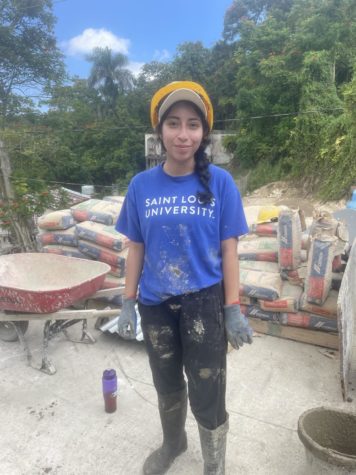 Betsua (Renny) Cuevas, a business major at Montgomery College translated from Spanish the words of the Puerto Rican family which helped the group understand and enhanced their experience and enjoyed working hands-on with the Puerto Rican community alongside her peers because it allowed her to see how everyone contributes in their own way.
"My favorite part of the trip was spending time with the family we helped before their last goodbye. It was magical to see the appreciation and love in their smiles. It inspires me and reminds me that behind every project, whether that be art or business, there is a team that made it happen. It is also a reminder that there is still a lot of work to be done in the world and being hands-on is the biggest way I can do to help."
Cuevas learned many valuable lessons on this trip that she plans to put into practice in her life and is inspired to further serve her community and feels motivated to integrate her interests to create a larger impact.
"To continue fostering love for the community, I intend on creating meetup or social groups for different interest I want to pursue such as painting and hiking. In the future, I also intend on working for Global Works or the Peace Corps. It has been a childhood dream to travel and serve the community."
Vanessa Prather-Delgado, a Paralegal Studies major at Montgomery College actively participated in the 2023 Alternative Spring Break program also expressed why she wanted to participate in this year's program and what she initially wanted to gain from going to Puerto Rico.
"I decided to participate in the 2023 Alternative Spring Break because I wanted to learn more about the social and environmental issues impacting Puerto Rico. And as someone passionate about social justice issues and who wants to work towards making the world a better place, I wanted to volunteer my time and labor towards an important cause. I also wanted to take this opportunity to connect with like-minded MC students."
During the trip, she gained a new perspective of the Taino History, this trip related to the major that she is pursuing along with her interests. "Besides the service days, I enjoyed exploring the Taino petroglyphs in Utuado. The anthropology major in me geeked out!"
Many of those who went on the Puerto Rico Alternative Break were inspired to take their new mindset about serving their community, and take it back to Montgomery County to bring forth change, and this was no exception to Delgado.
Delgado said, "By far – the most memorable experience from this trip was witnessing all the love and gratitude from the community. From the very first day of service, the community in Puerto Rico warmly welcomed us and made us all feel very accepted and valued. Nonetheless, it was a very fulfilling experience volunteering, and seeing how appreciative the family was of our service is something I will forever cherish. After this trip, I definitely want to participate in more humanitarian work in the future!"
According to Delgado, "Something significant I took away from this trip is the importance of community. After reflecting on this unforgettable experience, I realized how integral community is to social change and how transformative social change isn't possible without community. We really do need each other to make a difference."
Students decided to spend the final morning of the trip helping the Puerto Rican family that they had come to serve. Students helped at Maria's house to tie some more rebars to help for a future project of creating the concrete Kitchen columns to support for the foundation of her house.
Students said their final bittersweet goodbyes to the Puerto Rican family and were gathered around and told us how much our work meant to them and concluded with a heartfelt prayer, wishing for our safety and deliverance.
Finally, the students left La Casa Amarillo Grande (The Big Yellow House). As the bus departed all of our eyes drifted back to watch for one final time the home where we built a true community and life bonds.
We arrived at Luis Muñoz Marin International Airport and we all went around and talked about our reflections about each student on the trip and spread kindness and encouragement while we were waiting for our flight to head back to Baltimore, MD.
Students brought new perspectives back home to Montgomery County. To get more involved in building up a sense of community and showing compassion and love to all people.Students who are looking to engage in future college-run volunteer projects can find opportunities on MC Rockville's Student Life Instagram page.
https://www.montgomerycollege.edu/life-at-mc/student-life/service-learning-civic-engagement.html