MC's Got Talent 2023
Montgomery College, a school widely recognized for its outstanding academics and diversity, unsurprisingly educates a wide variety of talents. Thirteen gifted individuals showcased this in the 11th Annual MC's Got Talent on Thursday, March 23rd, 2023.
The competitors were:
Susan Rodgers, singer
Monique Barnes, singer
Ankit Guliani, dancer
Linda Ascencio, singer
Grace Prak, singer/ukulelist
Shwe Sin Phyu, singer/guitarist
Tenin Dembele, spoken word
Hayden Michaelsen, pianist
Joanne Gazman, singer/pianist
Badger Fern, singer/ukulelist
Hellen De Oliveria, dancer
Emiri Ohki, flutist
Genevieve Reineke, singer
The following emceed the event:
Donyell Harris
Mary Ibanez
Christopher Lloyd
Catherine Rodriguez
Three faculty judged:
Prof. Justin Boyer, Professor, Music, Montgomery College
Dr. Kellon Bubb, Professor, Communications, Montgomery College
Ms. Janeé McFadden, College-Wide Dean of Student Engagement, Montgomery College
Three students won:
First place: Genevieve Reineke
Second place: Hayden Michaelsen
Third place: Tenin Dembele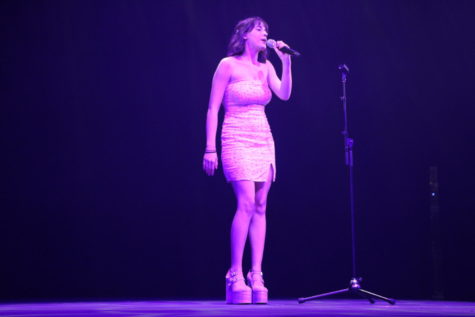 First place winner Genevieve Reineke, a 19-year old Sociology major and sophomore MC Student, "performed 'Don't You Worry About a Thing' inspired by the cover by Tori Kelly, but originally sung by Stevie Wonder." Reineke commented, "I really wanted to perform something upbeat and exciting, and as it happens the song was a challenging one, so it was super fun to take it on for the show after I worked on the song with vocal coaches and practiced singing in the car almost daily."
"Everyone anxiously awaits their time onstage, but while they wait they are often rehearsing in the halls, cheering each other on from the wings, or messing around together backstage. It's a really fun environment to be around and with so many talented people – it's such a blessing to have those people also be so kind and supportive," reflected Reineke on the essence of the talent show.
Find Genevieve on Instagram at @genevieve__music and in "Kenny Ortega's (Director of High School Musical, Descendants, and Newsies) upcoming documentary called '1,300 Miles to Broadway.' I had a part as a participant learning from amazingly talented and notable performers like Kevin Chamberlain, Kristin Chenoweth, and Jordan Fisher."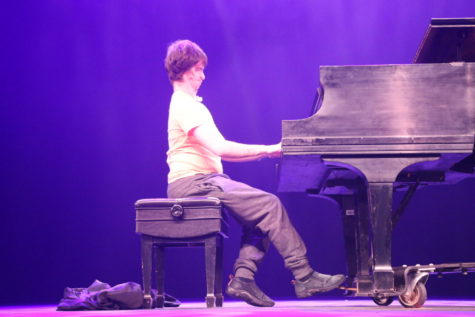 "I started out playing Chopin, then I took off my jacket and started playing the famous western fiddle tune, 'Arkansas Traveler,'" explained pianist Hayden Michaelsen, a sure crowd-please with his stage presence. On creativity and confidence, Michaelsen advised, "well, just make sure it's something you really like doing," but on Chopin, "my mom suggested I play Chopin at the beginning." Attendants of MC baseball games may catch Michaelsen playing baseball music on the field.
Tenin Dembele, an 18-year-old General Studies STEM major in her second year dually-enrolled at MC, performed her original spoken word, "Eye of the Beholder." Dembele chose to enter because of her identity as "a poete (P-O-E-T-E) with two E's because I use my poetry to Educate and Empower. My performance was all about educating about the experiences women face while also empowering women of all shapes and shades."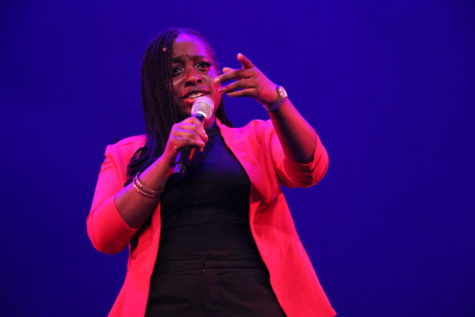 Dembele stated, "my biggest passion is women's rights and I'm often saddened to see women lacking confidence in their beauty and power because of societal constraints. My intention with my performance was that each word I say go straight to every women's heart. I've struggled a lot with confidence and self image, so I strive to be the voice I know I needed in my darkest moments."
On the future of her spoken word, Dembele hopes to "publish my poetry by the end of this year, however while I'm still crafting my book and seeking support in this endeavor, I enjoy sharing my work on Instagram. My poetry account is @TeninThePoete."
MC continues to inspire great talents and this iteration of the annual MC spectacle had no exception to that. Congratulations to all contestants. If you attend MC next year, consider trying out next spring.