Presidential Dialogue Series with Seth Goldman
On Monday, March 27th Montgomery College President Dr. Jermaine F. Williams sat down with businessman Seth Goldman as a part of his Presidential Dialogue Series. The Eat the Change Co-Founder and Chief Change Agent, PLNT Burger Co-Founder, and Beyond Meat Chair of the Board created the well-known Honest Tea company, which sources and produces bottled organic tea beverages.
Goldman takes passion in assuring that all of his products are healthy for consumption, and sustainable, and do not take more from the earth than they give back. "Every time we eat, we have this opportunity to have an impact on what happens to the planet" Goldman explained.
Recently, Eat the Change launched a line of organic teas called Just Ice Tea. The name combines the words "justice" and "tea," as the brand uses Certified Fair Trade tea leaves and assures that work conditions are safe and healthy for all of their workers and that they are paid fair wages. The company sources organically grown tea from India, China, and Mozambique, and organic sweeteners like agave and honey from Mexico and Brazil. Goldman's goal is to ensure that Eat the Change's products are widely distributed to all groups of people and are financially accessible.
Aside from Just Ice Tea, the company also produces Carrot Chews, which are a healthier take on fruit snacks, and Mushroom Jerky, a plant-based and minimally processed jerky snack. Both Carrot Chews and Mushroom Jerky produce very minimal amounts of food waste, as every part of the vegetable is used in their snacks. They each also offer full servings of vegetables and are great ways to incorporate more whole foods into everyday diets.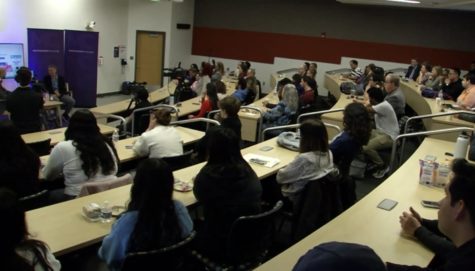 Also, Goldman offered advice to anyone in the audience seeking business and entrepreneurship as a part of their future: "you have to be able to focus and address a task and then be able to switch gears and address another task as well," Goldman emphasized. He explained the importance of compartmentalizing – focusing on one task at a time – and putting 100% of your best efforts into that task before you move on to another.
In the field of entrepreneurship, there are constant undertakings needing completion, and managing all of these requires the utmost priority. However, as important as it is to get good at multitasking, you also need to remember to put your all into everything you're working on to achieve substantial results.
Goldman's dialogue with President Williams provided listeners with a refreshing perspective on all of the ways that the foods we choose to eat impact our planet, and ideas on ways to make our diets healthier and more climate-friendly.