Centering Black Resistance: A Black History Month Presentation
On Thursday, February 23 the History and Political Science Departments collaborated with Office of Student Life and MC Global Connections to present this year's Black History Month Theme: Black Resistance.
The presentation started with Dr. Sylvea Hollis, Assistant Professor in the history department. She pointed out the importance of highlighting Black history, "If you teach teachers African American history, they'll teach students African American history." She went over the timeline and significance of February being celebrated as Black History Month. She referred to two key personalities in understanding the movement: Fredrick Douglass and Abraham Lincoln. She noted how "Lincoln initially did not care about black freedom at all. Enslaved people forced him to change his mind." It was a movement by the people for themselves that convinced a leader of the free world.
She further discussed the significance of this year's theme: Black Resistance "African Americans have resisted historic and ongoing oppressions in all forms." Dr. Hollis especially brought attention to two important acts of resistance in the current day scenario: Education, because for a long-time education was illegal for African Americans. Secondly: Memorials, they are an act of black resistance because they serve as a powerful tool for remembering and honoring the lives and experiences of black people who have been historically marginalized and oppressed. Memorials can take many forms, such as statues, plaques, museums, and public spaces, and they can be used to commemorate important events, figures, and struggles in black history.
Dr. Riedl who is also a professor in the history department presented the second half. Here at MC, he teaches courses in U. S. History, African American History, and Civil Rights in America.   His presentation dived deeper into the African American population in America. According to 1790 census, South Carolina had the highest percentage of slave population at 42 percent. It was followed closely by Virginia at 39 percent.
Dr. Riedl emphasized on how the Black population was "Disenfranchised, Segregated and Attacked." Bigots used race as a weapon to inflict discrimination and racism against African Americans.
Some of the key years of the Anti-Slavery or Black Resistance movement were:
1. Nat Turner's Revolt in 1831. Turner, an enslaved preacher, led a rebellion in Virginia that challenged the belief that slaves were content with their condition.  The revolt resulted in the deaths of around 60 white people and sparked fear among slaveholders that uprisings could occur at any time.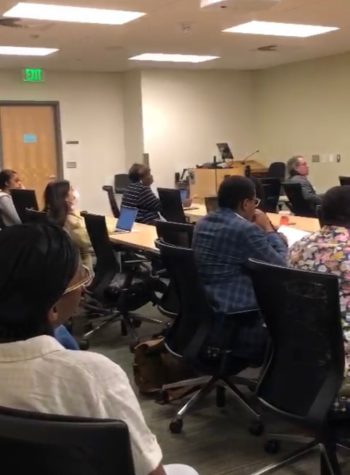 2. American Anti-Slavery Society's "Declaration of Sentiments." It was adopted in 1833 and called for the immediate abolition of slavery and equal rights for all people, regardless of race. The "Declaration of Sentiments" helped to galvanize support for the movement and served as a template for future civil rights documents.
3. Colored Conventions staring in 1830, were a series of meetings organized by free African Americans to discuss issues affecting their community. The conventions provided a forum for activists to share ideas and strategies for advancing the cause of abolition and black rights.
4. Fredrick Douglass's contributions to the movement as also discussed by Dr. Hollis. Born into slavery, Douglass escaped to freedom and became a powerful orator and writer, using his own experiences to expose the horrors of slavery and advocate for abolition.
The event had a room full of attendees. When asked about her experience, Christiane Bonkoungou, President of the Rockville Student Senate said, "It was an eye-opening learning experience about the deep systematic roots of racism in the US."