Montgomery College Students: Vote on November 8th!
Tuesday, November 8th 2022, students must go to the polls to vote in a high-profile midterm election. With key issues on the ballot and top seats up for grabs, Montgomery College students voting this year surely make tangible impacts in national, state, and local politics.
"I feel that MC Students should vote because the right to vote is a privilege that all American citizens have. It's important to cast your vote and let your voice be heard in order to make a difference in the country and the state of MD. We want students to vote so that the people trying to represent us can listen to our concerns and we can work together to implement change."
Danny Velado, a Montgomery College [MC] student majoring in General Studies HACL with a focus on Music, involved himself with the initiative to get MC Students voting through a postcard campaign, MC Votes, under the mentorship of community outreach advisor Gloria Bonilla.
"Some of the [questions] on the ballot MC students should care about include educational opportunities for all, gun control, raising the minimum wage, a healthy environment, crime reduction, and basic rights for all citizens," Velado informs. Question 4 on the ballot, the Maryland statewide legalization of recreational marijuana for those over the age of 21, receives chatter from many.
Seats up for grabs include governor, attorney general, state comptroller, Chris Van Hollen's US Senate Seat, county executive, local state's attorney, council members, school board seats, and all 188 members of the Maryland General Assembly. Democrat Chris Van Hollen faces Republican Chris Chaffee in the Congressional election.
The Democrat and Republican leads of governor race face polarity in key issues, starting with Takoma Park's own Wes Moore, who plans to better school systems through creating options for gap years, funding community-based organizations to keep police accountable and prevent violence, achieve 100% clean energy use by 2035, support the right to counsel in housing eviction, create a firearms database for tracking guns used in crimes, legalize recreational marijuana, increase statewide minimum wage to $15 by 2023, and fix the state's "upside-down taxation system" (Moore). Emmitsburg's Republican gubernatorial candidate, Dan Cox, identifies with the pro-life movement, rejects climate change, opposes COVID-19 vaccine mandates, supports releasing convicts with marijuana charges, and rejects increasing the minimum wage. For more information on the gubernatorial candidates, refer to one of the voters' guides linked below.
County Executive Incumbent Marc Elrich stated in an interview,  "[how] to build the future that everybody wants [should] be the central issue for students ask themselves." Elrich faces Republican Reardon Sullivan next Tuesday.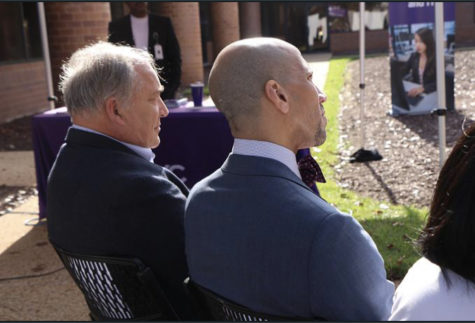 MC Alumni Kristin Mink, running for Montgomery County Council's fifth district seat attested: "funding for education has always been a priority. Republicans across the country are working to cut critical aspects of education from curriculums including diverse authors, restricting the Free Speech of LGBTQ plus students and their very ability to to to exist and to thrive. And, you know, freedom of choice, [such as] reproductive freedom. There are so many issues that are on that are on the ballot here."
Will Jawando, Lead for Libraries on the Education and Culture Committee  of the opportunities education supplies: "it's a smart decision no matter where you are in the economic income spectrum, where you are academically, and as an entry point for our students to have the best rates coming out because they've dealt with challenges. It's a way to, to really accelerate and keep that opportunity alive for them, even after high school."
The deadline to register to vote passed on October 18th. Eligible students can go to 777vote.org (Maryland State Board of Elections), text VOTE to 77788 to check their registration, or visit https://elections.maryland.gov/voter_registration/index.html to check their registration information.
Candidate List:
https://elections.maryland.gov/elections/2022/primary_candidates/gen_cand_lists_2022_1_by_county_16.html
Voters' Guides:
https://libguides.montgomerycollege.edu/elections/2022
https://assets.nationbuilder.com/lwvmaryland/pages/4567/attachments/original/1664547171/Mont_LWV_General_VG2022_English_Hyperlinks_rev.pdf?1664547171