MC Rockville Entertains, Serves, and Teaches Through a Pre-Inaugural Festival
On Thursday, October 13th, Montgomery College Rockville hosted a series of celebratory drives, events, and giveaways to promote the inauguration of new schoolwide president Dr. Jermaine F. Williams. The day, deemed "A Day of Community Service" included a mobile food market, anti-racism training, educational tables, and free lunch.
Dallas Davenport of the Gudelsky Institute for Technical Education hosted her booth. She explained her role, saying "the event promotes the inauguration, so departments are setting up tables to get to know students more and get to know the community more through the Mobile Market."
Elizabeth Kirby of the Counseling and Advising department promoted that, "students should come sooner rather than later to develop a transfer plan (and) be exposed to transfer at every opportunity to work on a degree". More scholarships exist for those who complete an associates degree, Kirby explained, and that too often, students plan too late for the competitive chances.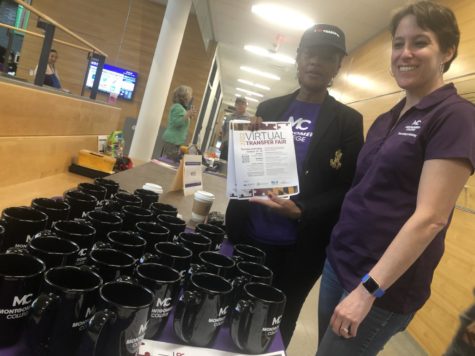 Ninesh, of the Macklin Business Institute (MBI) Starbucks, "wants more of the community and to help everybody out," and will be attending the inauguration. Ninesh, with his MBI peers, gave out free coffee and cookies with both dairy and nondairy options.
Katherine and Kaylin of the Student Health and Wellness (SHaW) center participated in the Mobile Market, which distributes boxes of free groceries to the community. "As part of the team, I'm very excited to have the opportunity to have the Mobile Market as a part of inauguration week. This mobile market really highlights MC's effort to support our community and students."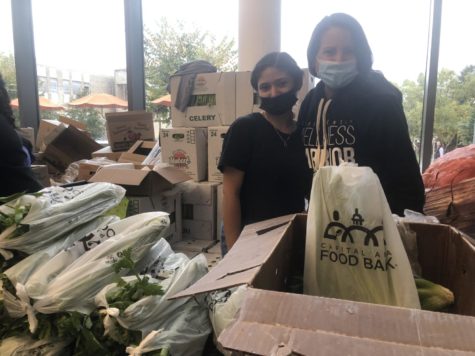 Eva O'Hara, representing the English Department, collected donations of art supplies and books for incarcerated women to do painting and poetry classes. "The English department does service like everyone else. I think it's awesome Dr. Williams encouraged the campus to engage in service projects for the inauguration for the community. I think that helps everybody."
Elizabeth Benton, also of English, spoke of the effort, Fighting Injustice Standing Together (F.I.S.T.), which she describes as a "non-profit that transforms incarcerated women and returning-citizens into leaders with a voice." "The director of the nonprofit (Schai Schairer) is a former MC student. She and one of the sponsors said, 'I want you to engage and work on literacy.'" The drive, held all week long, could be found in all three campus' English departments.
Stephen Cain, MC's Chief of Staff distributing lightbulbs, stated: "We collect unused supplies, not just food, to be distributed (for the Mobile Market). These lightbulbs are energy efficient."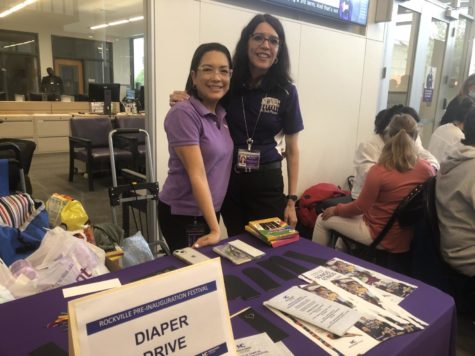 Dr. Sonia Pruneda-Hernandez, Collegewide Chair, Early Childhood Education Programs, and Meylin Mejia Cardenas, Coordinator of the Early Care Education and Initiative Pathway (ECEI) scholarship program, collected diapers for students parent on all three campuses. Dr. Hernandez emphasized the importance of accessibility to childcare supplies all around.
Steve, representing the Nursing Department, allowed people to check their blood pressure in case they have hypertension with his fellow nursing students. He wants Dr. Jermaine F. Williams to know, "we work hard in the program and appreciate the support we get, and hope to keep getting the support we get. (Nursing is) such a time consuming program, and (the key to health is) diet and exercise; (also cutting) out salt (for hypertension)."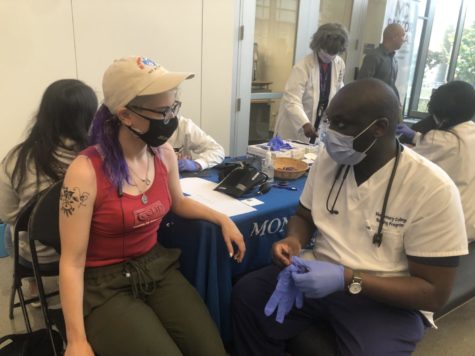 Dr. Jermaine F. Williams joined the SHaW ensemble stating, "I feel good because I'm helping people have healthy, nutritious food, something everyone should have and I'm doing that to make sure it happens. I feel awesome about becoming the president of MC; everyone's dedicated to our students (and) doing a different part to help our activities. (The inauguration will be) a completely accessible, inclusive, and fantastic ceremony for the community, students, and teachers."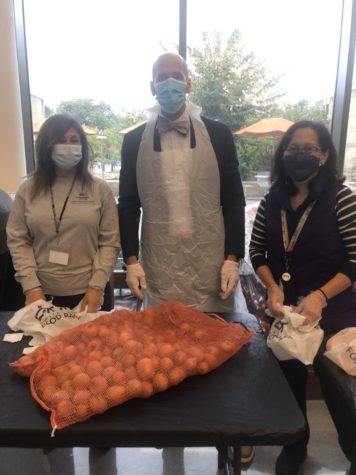 At lunch time, caterers Joshua and Louise, among others, intended to "make people happy" and "make people's days better" by giving out beef tacos and horchatas. Joshua thought MC students can be a good example for Dr. Jermaine F. Williams by, "serving the people; giving without necessarily receiving; making people smile."