2022 Honors Research Colloquium
On September 9th, Montgomery College students who were part of the Early College and STEM Scholars programs last summer presented their research at the 2022 Honors Research Colloquium in the Globe Hall at Montgomery College, Germantown Campus.
The event consisted of two parts. First of all, students presented interactive posters. Second, students spoke about their summer research and the relevance of their investigations in society.
During the poster presentations, the Raptors discussed their projects with their peers and professors. For example, MC students Sepand Jahrominejad, Hana Fatima Shaikh, and Meba Tadesse created a mathematical model that could predict the possible outcomes for a Pylos game in their project, Pylos Game Analysis.
This game board consists of placing 15 spheres in 16 dimples. Each player begins the game with fifteen balls, which can be either light or dark. They then place their fifteen balls in a 4×4 grid. A ball can be positioned on top of four balls to create a second level of play once the square of four balls has been formed. Once this second level is complete, which only needs four balls, a final ball can be placed on the third level, and so on. The player who places the last ball on the fourth level wins the game. To compute their calculations, they also programmed code in Python.
However, students faced challenges in conducting this program due to the immense range of possible outcomes they had to calculate. When asked about the potential applications that Game Analysis would have for society, Sepand answered, "Yeah, you could analyze people's movements and predict what they will do. So, if you know all the possible options of a person in life (go to work, go to school), you can analyze all the possible outcomes of their choices, and we could create an AI that can predict outcomes for people's decisions."
Then, one of the professors listening to their presentation commented, "That often happens; you do math just for fun, and later you realize, 'Oh, we can apply this for real life!'"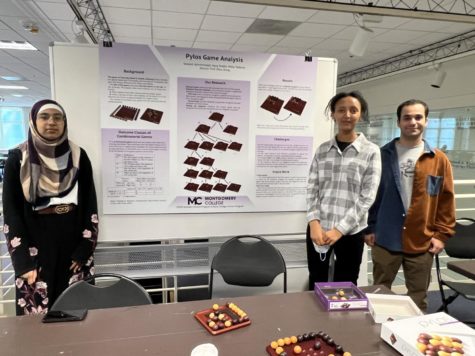 Next, the poster presentations were followed by summer research talks, which took place at the Globe Hall.
The presentations started with a speech by Margaret Latimer, Vice President of the Collegewide STEM Unit. She welcomed everyone and thanked professors for guiding students in their projects.
Latimer stated, "the honors programs are growing immensely because of an amazing and dedicated group of people who know the benefits students get from challenging coursework. The opportunities to engage with pairs and other students who are excited when facing the unknown are what the research is all about: facing the unknown, asking a question for what there is no answer, and turning that unknown into knowledge."
Following Vice President Latimer, Dr. Lucy Laufe introduced the students on deck to present and appreciated the opportunity that students have for doing research papers at MC. Dr. Laufe said, "Early college students are not often eligible for some research programs at other institutions because of their age, and understanding that here at MC, we have the ability to create something special and equivalent to what they could find in other institutions is a pretty remarkable vision (…). As an honors chair, I could not be more proud, and I will continue to grow STEM scholars and early college honors."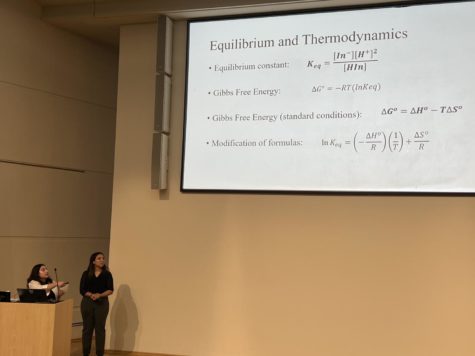 One of the presentations, Aging Through Time by David Soussana, concerned biotechnology. Soussana's project explored how life expectancy would be a problem if it is not controlled and how biotechnology provides a connection between humans and robots, which could help eradicate human mortality.
Soussana explained how brains could be transplanted into organic computers, yet mind scanning into these computers is a challenge that scientists are still facing. He said, "Robots are becoming more like humans every day, and they will be even more similar in the future. However, people dislike associating characteristics with robots (…). In the future, this might change so that robots can be integrated into society, and eventually turn humans into robots, so there will be no mortality and humans will not worry about diseases and aging."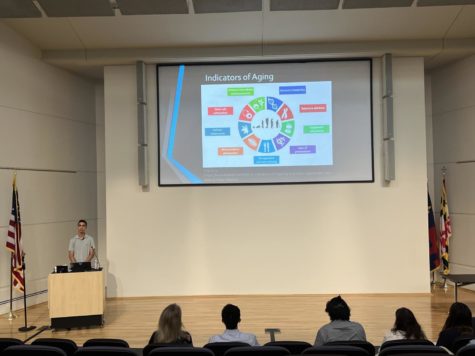 The 2022 Honors Research Colloquium introduced MC students to presenting scientific research. Opportunities that programs such as the Early College and Stem Scholars program provide to students have significance because, as Dr. Lucy stated, not many other institutions offer research opportunities to undergraduate students because of their inexperience. Therefore, MC students majoring in science greatly benefit from the experience of doing and presenting original research. These opportunities help MC students to develop their competitiveness in the workforce.