Raptors Forever: Do-It-Yourself (DIY) Bracelet Making During Raptor Week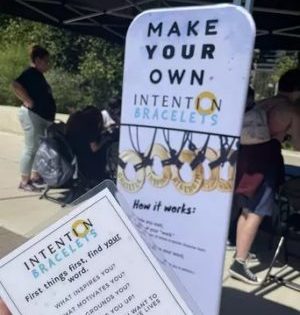 On Thursday of the Raptor Week return to campus extravaganza, Montgomery College students congregated to make Do-It-Yourself (DIY) Intention Bracelets. Raptor participants engraved letters into a gold lifesaver using a hammer.
The most common intention for the bracelet-makers? Passing this semester!
Eleanor, a voice major, and Karter, a film major, coordinated their bracelet intentions: doctor bug, and bug doctor, respectfully. They both like bracelets, and they both like passing their classes. Getting through their majors and graduating defines their upcoming school year.
On the topic of graduation, Raptor Week welcomed back Ethan – biology major –  who graduated last spring. He attended for his friend Kolabo, a hospitality major. Ethan, now at University of Maryland (UMD), chipped in an intention of his own: STUDY! Biochemistry major Anna, who tagged along with the group, chipped in:  "Happiness and science is the intention. For me, that's one in the same." They recommend Professor Laura Anna, Chair of the Chemistry Department.