Vitals Check: Get Your Life's Pulse on Track with Montgomery College's Certified Medical Assistant Program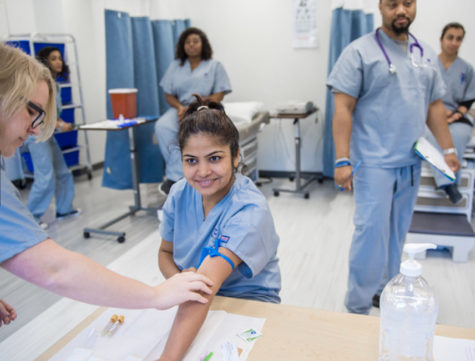 Did you know that the person who takes your vitals at the doctor's office is the fifth most in-demand essential worker in the DMV (pre-pandemic)? Medical officials who fill this role are referred to as Certified Medical Assistants, and Montgomery College has one of the most cost and time-effective Certified Medical Assistant programs in the DMV.
Matt Willson, a Program Assistant at Montgomery College's Noncredit Health Science Institute at the Takoma Park/Silver Spring campus (TPSS), would love to get the word out about becoming a Certified Medical Assistant through MC. He states, "Students end up going to for-profit colleges for nearly a year and spending $17,000, while [Montgomery College's] program is only $3,460 and three months long."
Drawing blood, taking injections, giving vaccines, measuring heart activity, and taking temperatures are a handful of the vital skills MC's Certified Medical Assistant students develop throughout the program. Due to its nature, this program is extremely hands-on and immersive, making it less accessible to virtual learners. Nonetheless, the Workforce Noncredit Course (WFNC) actively encourages new enrollment. Wilson stated that "right now the curse is a hybrid. The lectures are on Zoom, and the labs and clinical are in person."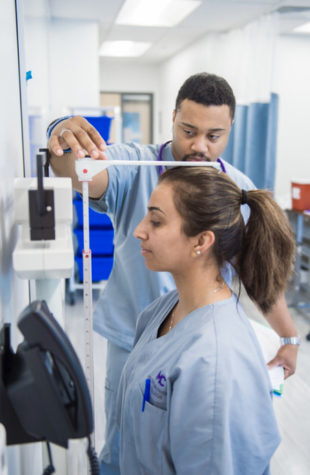 "Part of our lab is that students complete a 50-hour internship," explains Wilson, who continues, "we send [students] out to a doctor's office, urgent care, or local care clinic [at] different sites across the county."
Students get their certification after passing the Certified Clinical Medical Assistant (CVMA) exam for the National Health Careers Association. Program Assistant@ Wilson included alumni who may end up following the doctor route. This is because students are able to quickly get fully immersed in the medical field, allowing them to work and gain critical experience while advancing towards the lengthy process of medical school.
New classes for the Certified Medical Assistant Program just opened up on Rockville Campus. You can visit Program Assistant Wilson in his office, HC 126, or by phone at: 240-567-5508.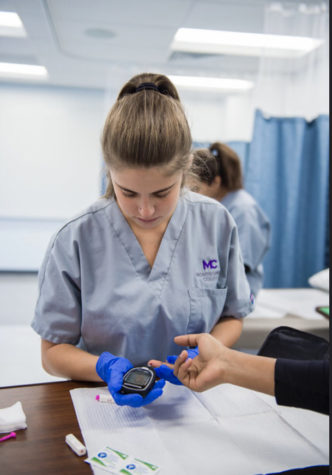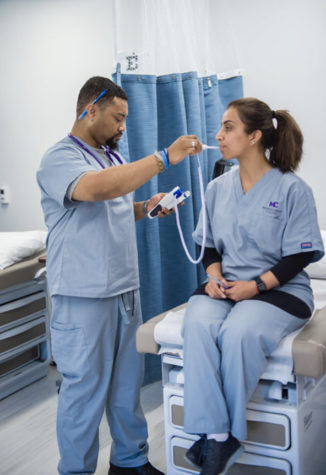 ---
Note from the Author:
Want to have an alternate way to support health care workers? Help your neighbor get vaccinated, volunteer at food distribution sites, join the Medical Reserve Corps (a national network of volunteers promoting public health), donate hygiene supplies to local charity drives, or even buy your local Certified Medical Assistant a cup of coffee! Make sure to keep an eye out for various virtual and in-person volunteer events, and most importantly, keep your own health in order!
Resources:
Rockville Medical Reserve Corps:
https://montgomerycountymd.galaxydigital.com/agency/detail/?agency_id=109883
Montgomery College Rockville Hygiene Drive and Mobile Markets:
https://www.montgomerycollege.edu/life-at-mc/student-health-and-wellness/fuel-for-success-food-campaign.html
Montgomery College Vaccinations:
https://www.montgomerycollege.edu/return-to-campus/campus-vaccination-testing-sites.html
Manna Food Smart Snacks:
https://montgomery.givepulse.com/group/7827