2022 Commencement Ceremony: Now In-Person Thanks to Students' Voice
Student Miguel Rodriguez Started a Petition for an In-Person Commencement.
On February 16, 2022, Montgomery College's Interim President, Dr. Charlene Dukes, announced MC would hold another virtual commencement this May. For many graduating students, this announcement came as a blow. For the past two years, MC has held commencement virtually as a COVID-19 measure; a necessary but unfortunate restructuring that left many students feeling as though they had missed out on an important moment of their education.
In Spring 2022, MC students returned to campus for the first time in two years. With the decrease of COVID-19 cases in Montgomery County, the relaxing of federal and state mask mandates, and encouraging vaccination rates in Maryland, students and faculty alike were anticipating an in-person commencement ceremony. Dr. Dukes' announcement initially garnered some upset for graduating students. Assuming there would be an in-person commencement following an in-person semester, graduating students had already begun to shape their plans with friends and family around it. After two years of strict COVID-19 measures, many felt that there was surely a way to hold commencement in person while still adhering to health and safety guidelines. However, now accustomed to these sudden shifts and changes, most students more or less resigned themselves to the situation.
One student, however, did not. Miguel Rodriquez is a Broadcast Media Production student graduating this Spring with his Associate's of Applied Science (AAS), and the thought of another virtual commencement didn't sit right with him. He says, "Having dealt with lockdowns, mandates, virtual learning, we've sacrificed so much these last two years. Hands-on experience, in-person experiences, opportunities to network with other students and faculty, we're just sacrificed so many experiences. And now that we're back on campus, COVID is still an issue in certain ways, but we've come a long way since Spring 2020."
Like many others, he too felt there must be a solution to provide a safe, in-person commencement. "It really sat wrong with me. Especially because I'm a part-time student, and I actually delayed my graduation by an entire year so I could avoid taking online classes. I was supposed to graduate Summer of 2021, but there are certain classes in my curriculum where you really need hands-on experience in the studio with the equipment. You cannot compare the experience of online classes with the hands-on experience required, so I delayed my graduation."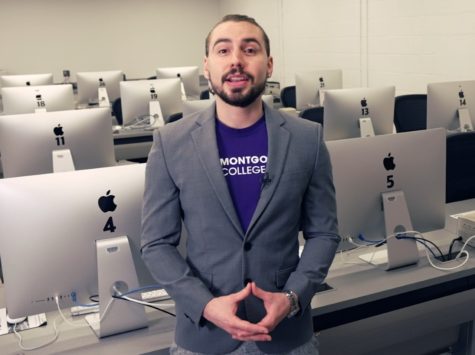 In addition, Rodriguez shared that as a returning student, this graduation would be a big moment not just in his college career but also in his life, due to various circumstances that didn't permit his first college experience to work out. "I really wanted that reward. I wanted to share it with my family. After two years of dealing with what we did, and after what I've personally been through in my life, this is a big deal. I wanted to share that moment with my family in person."
Rodriguez was certain that other students were experiencing similar circumstances and knew how important it was to have this experience as a reward for the difficulties of the last two years. Encouraged by fellow students, faculty, and staff, Rodriguez started a student petition for an in-person commencement. While he did most of the writing work, he had significant encouragement, support, and aid from the faculty and several of his classmates, notably Estaban Melgar and Asyja Byers.
After writing the petition, Rodriguez, Melgar, and Byers walked around campus with printed packets, gathering physical signatures from MC students. "After walking around campus for a few hours, we gathered 175 physical signatures," Rodriguez mentioned these signatures were from the Rockville campus alone. Still, he was prepared to extend to both the Germantown and Takoma Park/Silver Spring campus if necessary. Fortunately, the 175 signatures that they had gathered were sufficient.
Unsurprisingly, Rodriguez's petition was met with overwhelming support from MC students. "Pretty much every student group we approached on campus were overwhelmingly in support of the petition. We couldn't believe it. Actually, most graduating students I talked to had assumed we were going to be graduating in person, so they were surprised when I told them we were going to have a virtual commencement. So, those students really grabbed onto the petition, because they didn't even know the virtual [commencement] had been announced."
After collecting the 175 signatures, Rodriguez sent the petition to the Rockville Student Senate, the President's Office, and the Board of Trustees. After meeting with Interim President Dukes, President Williams, and the Board of Trustees to discuss the student petition, on February 25, the commencement decision was reversed to an outdoor, in-person commencement where only graduating students would be present.
In a later update in early March, President Williams announced that graduating students could bring up to two guests each. "I wasn't expecting it to work, but I was very surprised by how fast the decision was reversed once they heard the student body's voice. I was very pleasantly surprised by Dr. Charlene Dukes, Dr. Jermaine Williams, and the Board of Trustees, who make these decisions," said Rodriguez on the new commencement plans.
Rodriguez went on to express gratitude to the Montgomery College leadership. "I have to give a lot of credit to the College, to the Presidents, a lot of credit to the Board of Trustees for listening to us. They reversed their decision, they are accomodating us as well as they can right now. I started out angry, but I have really been blown away. They have been so supportive."
Rodriguez continued to express how surprised and happy he was with the response of MC leadership and encourages students to use their voices to advocate for the changes they wish to see at MC. "If they want to advocate for something, they should, because Montgomery College faculty and staff are really supportive of students. I never had a problem contacting the President directly. The faculty and staff here at MC are not hard to reach; they don't hide in their offices, they are part of the community. It's nice to know and see that."
Under the most recent updated plan, the 2022 Commencement Ceremony will take place across two days: Thursday, May 19, and Friday, May 20. Graduates with last names ending in A-L will attend on Thursday, May 19; graduates with last names ending in M-Z will attend Friday, May 20. Each event will start at 10 a.m. and will be staged outside in the parking lot in front of the Performing Arts Center (PAC) at the Rockville Campus.
Each graduating student will be provided outdoor seating for up to two guests, with a standing area designated for additional guests to view the ceremony. In addition to Spring 2022 graduates, students who completed their degrees at the end of Summer 2021 and Fall 2021 are invited to participate in the 2022 Commencement ceremony.
For more specific information on the Commencement Ceremony, and important graduation-related dates and deadlines, please check the MC Commencement website here.