Shaw Center Offers Monthly Mobile Markets at Montgomery College Rockville Campus
The Student Health and Wellness Center for Success (SHaW Center) aids students in overcoming challenges that affect their daily lives and, therefore, academic goals. The SHaW Center bridges the gap between students and available resources, thus making them more accessible. Health care, housing, food, mental health support, and personal safety are the basic life necessities provided by the SHaW center.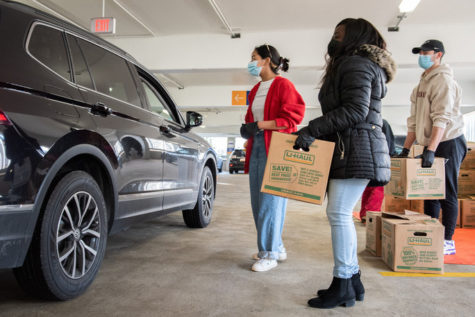 In February 2022, the Student Health and Wellness Center for Success organized its monthly mobile market at the Rockville campus for MC students, faculty and staff, and the wider community to curtail the food shortage prevalent in society. Pre-packed boxes with fresh produce such as cabbages, carrots, potatoes, and other items like milk, juice, and granola bars were distributed amongst the attendees. The SHAW Center shed some light on how the donations to the Montgomery College food pantry work. They explained that the MC food pantry and the Mobile Markets are set up in partnership with the Capital Area Food Bank, which receives excessive produce from local farmers and grocery stores around the area and then redistributes it. An essential resource to make this happen are the 12 volunteers present at the Rockville event alone, ensuring the event went smoothly, and nobody left empty-handed. While explaining how to get volunteers to help, Stephanie Will, one of the organizers, said, "We have flyers and information that goes out on our social media for the students to come forward and volunteer."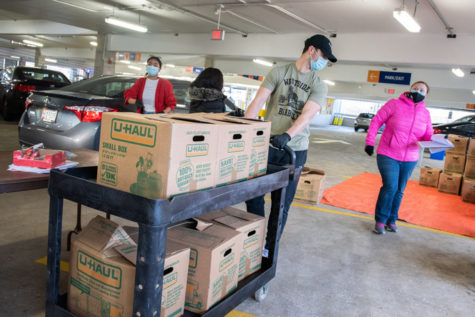 Jayden Matusow, one of the volunteers, shared his thoughts and said, "Most of us volunteers are juniors and freshmen; we even have high schoolers amongst us. Everyone is really friendly and we try to help out as much as we can, considering not a lot of people are able to do it. It feels great to play our part."
Before COVID, the MC markets were more of a grab-and-go style. The volunteers would lay out the food on tables, and the walk-ins could simply take along a limited number per food item. Since COVID, pre-packed boxes are ready to go for drive-through and walk-ins. No prior registration is required. The only things asked are if they are a community member, faculty/staff, or student. They also ask for the household size and any minors, seniors, or veterans residing.
When asked about how COVID has affected the Mobile Market, the Student Affairs Initiatives Program Manager, and the event's organizer, Sergio Washington, replied, "It has had a tremendous effect on it. There has been a reduced amount of produce provided compared to previous drives in this season." Participation dropped during COVID as people were afraid and confused about the Market operation. As learning had been virtual more community members than students or faculty were seen at the markets. Now that students are back on campus, the response to the initiative was significant, and food went out at a rapid pace.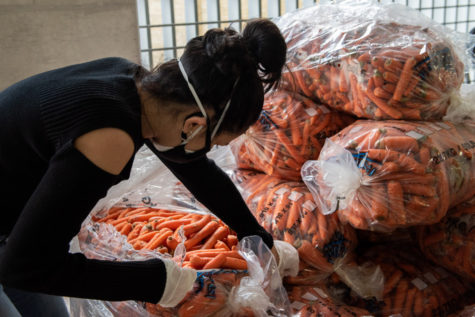 In the future, Sergio said, "We are hoping to get a greater amount of produce, so we can provide more to the people who are coming because we know how much this means to them."
The upcoming Mobile Markets are:
Wednesdays from 2-4 p.m.:
March 2 (Rockville Campus)
April 6 (Rockville Campus)
May 4 (Rockville Campus)
March 23 (TP/SS Campus)
April 20 (TP/SS Campus)
Students and community members interested in receiving food aid and participating as a volunteer can get more information at the SHAW center website here.
Or contact the Student Health and Wellness (SHaW) Center at [email protected].