Last Call to Submit the Social Justice Inclusive Leadership Institute Application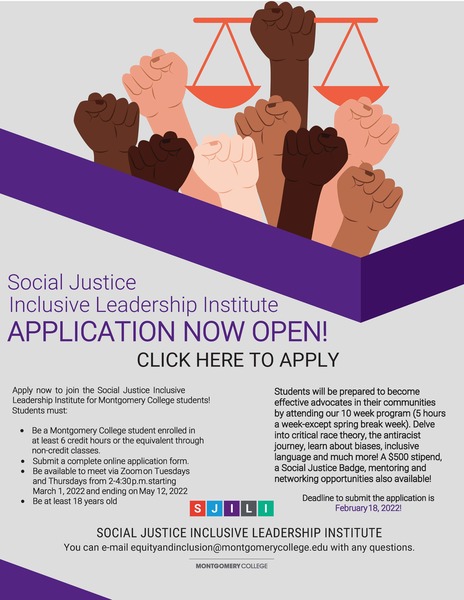 February 18, 2022, is the last day to apply for the Social Justice Inclusive Leadership Institute (SJILI). The Office of Equity and Inclusion created the SJILI to lead students from diverse backgrounds to navigate an antiracist journey. Students participants of the institute are exposed to workshops where they learn about inclusive language, public speaking, leadership, leadership through an equity lens, financial literacy/scholarships, history, imposter syndrome, vision/mission development, networking, and mentoring.
During the SJILI journey, students also dive into topics direct to self-discovery, inclusivity, equity, and antiracist work weekly. Besides participating in discussions and dialogues on the book How To Be An Antiracist by Ibram X. Kendi facilitated by Dr. Andraé L. Brown, Professor of Psychology at Montgomery College, Sharon Wilder, Chief of Equity and Inclusion at Montgomery College, George Rice, Administrative Associate of the Office of Equity and Inclusion at Montgomery College, and Jeanette Rojas, Equity and Inclusion Program Manager.
Students will be attending a 10-week program (5 hours a week, meeting on Tuesdays and Thursdays, except winter break). They will also be working on an advocacy project where they are plan to put antiracism into action.
The requisites to apply are:
– Student must be a Montgomery College student enrolled in at least six credit hours or the equivalent through non-credit classes.
– Submit a complete online application form.
– Be available to meet via Zoom on Tuesdays and Thursdays from 2 – 4:30 p.m. starting March 1, 2022, and ending on May 12, 2022
– Be at least 18 years old
The program offers a stipend of $500, a Social Justice Badge approved by Montgomery College, mentoring, and networking opportunities among Montgomery College faculty and partners.
Alexzander Baetsen (They/Them/Theirs), an Elementary General/Special Education major at Montgomery College, and SJILI alumni were interviewed and asked a couple of questions on why a student should apply to the program:
Why were you interested in the SJILI?
I was interested in becoming a member of the Social Justice Inclusive Leadership Institute (SJILI) because of my desire to seek out leadership development opportunities and my commitment to improving my social justice advocacy skills. As someone who is transgender and identifies as nonbinary, advocacy has been extremely important throughout my life as a young adult, both on the behalf of myself and other members of the LGBTQ+ community. In addition to learning to better advocate for myself, I was seeking to learn more about how I could better express my solidarity for other marginalized groups and take concrete action to aid in their fight for liberation.
How did SJILI helped to change your perspective in Social Justice and Social Change Activist/ advocacy?
I believe the most prominent way that my perspective was enhanced through SJILI was through the vulnerable community space that we cultivated as a group. My cohort members represented many diverse groups, and with that came the introduction of new perspectives in our discussions of various social justice issues. I highly enjoyed being able to hear the viewpoints of others and the opportunity to learn from individuals who have had much different life experiences from me. Through these discussions, my perspective on different social justice issues became even more multidimensional and multifaceted than it had been before. Had it not been for the safe space that SJILI facilitators established for us, this critical intellectual exchange of ideas and experiences would not have been possible.
Did you feel welcomed by the SJILI environment?
I felt extremely welcomed by the SJILI environment! My pronouns, chosen name, and overall identity were consistently respected. In addition to this validation, it was always made known to me by our facilitators that our ideas, opinions, and perspectives (as members) were valuable. I feel as though myself and my peers in SJILI were able to speak freely in our discussions and our contributions were facilitative to everyone's learning. I am also grateful that SJILI facilitators welcomed feedback and additional suggestions from students so that the environment could be improved even further.
What is the most special takeaway from the SJILI?
My takeaway is a bit specific to myself and my personal journey. Through SJILI, I began to develop the understanding that while learning to advocate for others is important, I must also learn to advocate for myself and acknowledge that I deserve to take up space. To truly be able to advocate for myself, first I must understand my worth and my inherent value as a person. This is the ultimate foundation for respect: being able to see the inherent value and worth of others and the self. Through cultivating this self-love and understanding, not only will I be able to better advocate for myself, but it will be even easier to recognize the worth and humanity of others in their fight for social justice. I believe that this leads to stronger bonds of solidarity and an enhanced community commitment to social justice for all.
5. If you could leave a message encouraging students to apply, what would it be?
Every one of us has a responsibility to uphold and fight for social justice. It is our duty to speak out against injustice, oppression, and hatred when we see it manifesting in our communities. Through SJILI, you will have the opportunity to mindfully expand your perspective on various social justice issues and further develop the advocacy skills needed to resist and challenge the many manifestations of oppression in society.
To apply to the program, submit a form here: Social Justice Inclusive Leadership Institute Application 2022
The application will be available until 11:59 p.m. today, Friday, February 18, 2022. For more information and questions, please email, [email protected]