MC Holds Welcome Week for New and Returning Students
MC's Raptor Week featured a variety of activities for students, including movies, snacks, and arcade games.
The Office of Student Life held their latest Raptor Week from Jan. 27 to 31, providing many different events to participate in and helping to bring a warm welcome to new and returning students.
For Monday and Tuesday, "Snacks and Maps" was held in the Campus Center's lobby, as new students unfamiliar with the Rockville Campus were handed free confectioneries and charts to help them navigate.
Students were also able to make their own personalized street signs on Tuesday, in the Student Lounge. Some students were unable to make their own signs due to limited resources, but you can spot the Student Senate St. and Advocate Ave. signs prominently displayed in the Student Life Office, made by their respective club members.
"Initially I thought there was going to be some cost, but [fortunately] there was no charge for it," recalled Alex Serrano, who is attending his second semester at Montgomery College. "I was satisfied with how the street sign turned out, and I like that there were multiple options on how one could have their name presented."
The next event on the agenda was the Uno Tournament, held on Wednesday. With platefuls of catering from Panera Bread at the ready, the Student Lounge was packed with  commotion from students chewing, cheering, and competing.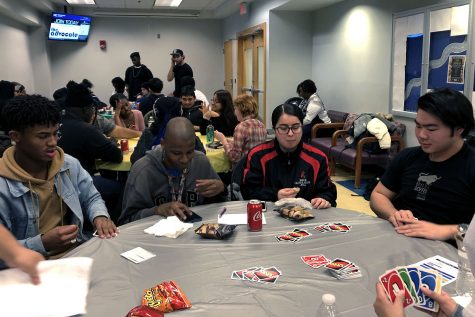 "I heard about this event from a flyer handed out by the Student Senate," said first-year student Ramon Holloway. "I personally enjoyed the event because the games were fun, yet competitive. I also learned how to play Uno!"
Near the final 30 minutes of the event, prizes were handed out to students who won the most Uno matches at their table. These prizes included gift cards to Amazon, Chipotle, and Target.
The day after, arcade cabinets were brought in to the Student Lounge for the Pop-up Retro Arcade. The arcade featured iconic games such as Donkey Kong, Pac-Man, Asteroids, as well as an interactive memory game, similar to what you'd find at a modern video arcade. At its peak, students could be seen crowded around each cabinet, watching the current person trying to reach the high score, and others waiting excitedly for their next turn. While I wasn't able to attend the entirety of the event, I was able to leave my legacy and cement my name in the scoreboard for Donkey Kong and Pac-Man.
On Friday, a screening of the highly acclaimed drama/thriller Queen & Slim was held on the lower level of the Campus Center. Pizza, popcorn, and chips were served to a full house of students eager to wind down and finish a long and eventful week at Montgomery College.
"I enjoyed [Queen & Slim]," remarked first-year student Gerardo Delacruz. "It was a very thrilling movie that kept my attention despite there being free pizza, which was also the draw for me coming!"
To hear more about future MC events held by Student Life, be sure to contact 240-567-5092 or by email at [email protected].