Fall Festival Attracts Students from All Over Campus
On Wednesday Nov. 6, Montgomery College Rockville Campus held its 2019 Fall Festival. Right in front  of the Science Building from 12-2pm. Multiple exciting events took place and caught the attention of students even as far as the Campus Center.
There were many activities that took place such as bull riding, where students needed to sign a waiver before getting on, a pie eating contest every fifteen minutes, pumpkin decorating, and so much more. There were also snacks and refreshments available all around the field including caramel apples, hot chocolate, and fresh popcorn. In this chilly November weather, these foods and activities really did a great job of warming students up.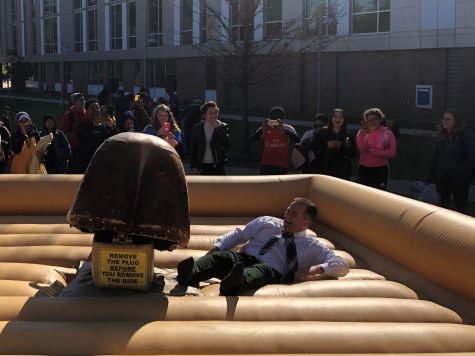 When asked how they found out about the Fall Fest, many students confessed to walking up to it as they came out of their classes. Some said they came when they heard the music from Radio WMCR's DJ and others were notified by the Montgomery College Facebook page and other social media.
When asked what their favorite activity was one anonymous interviewee answered, "It was great getting on and ridging the bull myself, but it's much funnier watching the people fall off [laughter]!"
There were also a few clubs scattered around with their own personalized activities. The Youth Democrats Club has apple cider pong with a twist, if you miss the cup drink from it and say a fact about the politician plastered to the cup. The more you miss the more you drink. Off to another side were board games like Connect Four, Jenga, and a Scavenger Hunt where you have to complete all of the listen objectives to win a prize after showing proof to the members at the original table.
With all of these activities it was no wonder the Fall Festival garnered such a large crowd. Hopefully, more students will turn up for similar future events.