Diversity panel promotes awareness of intercultural issues
Many Americans aren't aware of how uninformed they are on the true relationship between Islam, gender and violence, Marya Hannun said in a panel last month at Montgomery College.
Hannun, a doctoral candidate at Georgetown University, said the media plants and perpetuates inaccurate and exaggerated images of Islamic peoples.
Once becoming aware that one's view of the Islamic world may be warped by the media, Hannun suggested engaging local voices, reading books, and thoughtfully considering the context to correct misperceptions.
Anny Gaul, also a doctoral candidate, studies food and its connections to history. At the Thursday panel, she talked about bastila, a Moroccan pastry whose roots can be traced to explain forced migration in Northern Africa.
Kalif Robinson, a 2017 Charles B. Rangel International Affairs Fellow finishing his master's degree, spoke broadly about a variety of intercultural issues including populism, authoritarianism, climate change, cybersecurity, and forced migration.
"I'm not really going to offer solutions, because if I had solutions then these wouldn't be issues," he said. Robinson suggested approaching these topics with diverse, inclusive strategies that focused on freedom and human rights.
The panel of three graduate students, all in some variant of Arabic studies, was hosted by the Global Nexus program.
Enas Elhanafi, Global Nexus program director, said the intention of the panel was to show different sides of issues and promote diversity and inclusion.
Held on a rainy Thursday afternoon in the Theatre Arts arena, around 30 people attended. The majority of attendees were older adults, faculty and students.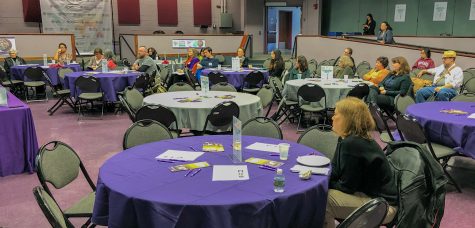 Elhanafi said there were fewer attendees than RSVPs, likely due to the weather.
The arena was set up with many round tables at the front and a few rows of chairs at the back. Many of the tables in front remained unoccupied throughout the program. Refreshments were provided for the audience.
The Global Nexus program exists as a general initiative to promote diversity and inclusion, said Elhanafi. It pursues this objective mainly through putting on events.
Global Nexus' main annual event is the Student and Alumni Colloquium, which showcases research and presentations by students. It occurred on Feb. 26 this year.
Michael Crittenden, a 2019 Colloquium participant who was previously stationed in Iraq, introduced the three speakers.
The Global Nexus program is funded by a Title VI grant given by the U.S. Department of Education to Georgetown University's National Resource Center of the Middle East. It is also supported by the Center for Contemporary Arab Studies at Georgetown, according to the Global Nexus website.
Denise Folwell, an MC professor and Global Nexus committee member, said that the program existed as the Arab American Heritage Month for around 10 years but switched names three years ago to attract a more diverse audience and community. The program's source of funding and previous roots still influence its focus on the Middle East.
Leave a Comment